A candid tale about enjoying life (and climbing) in Kalymnos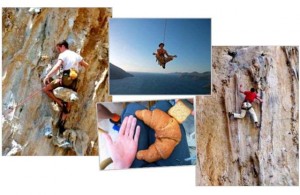 The July / August issue of the French online magazine Passion Grimpe features an article about Kalymnos by Sylvain Bachimont and Hugo Houel. It is a tale of five young climbers from France spending 12 days on Kalymnos in the spring. While it is primarily a climbing diary, it is just as much an ode to fun and the subtle things which make Kalymnos, well…Kalymnos. My awful French notwithstanding, I still giggled when familiar things were mentioned, like the 'bionic croissant' they had for breakfast, or the description of drivers of the ubiquitous scooter ('anywhere from 7 to 70 years old, invariably without helmets').
The account of the five friends –Sylvain, Hugo, Guillem, Aurélien and Lucas—begins with their arrival at Kalymnos after a 20-hour trip (!) and their introduction to Pothia-style 'anarchy'. They go on to describe settling in Masouri and spending the next days climbing classic lines at equally classic sectors: Grande Grotta, Afternoon, Spartacus, Sikati and Odyssey. After their 12 days fly by, they embark on the real Odyssey: the return home via Athens, only to find out a volcanic ash cloud has grounded their flight indefinitely. You want to know their verdict after 3+ days on boats, trains, buses, taxis and cars? They would do it again in a heartbeat!
Even if you can't read French, the photos will crack you up. Of course the requisite climbing photos are all there, but also pictured are the bionic croissant, a staring contest at the crag between a goat and a climber, two of the guys doing the full monty at the beach, and more youthful snapshots by a bunch who don't take themselves too seriously and emanate a contagious joie de vivre.
Click here for the full article and photos.
This entry was posted on Friday, September 10th, 2010 at 22:36 and is filed under Kalymnos news. You can follow any responses to this entry through the RSS 2.0 feed. You can skip to the end and leave a response. Pinging is currently not allowed.