A Climber's Paradise: What Can We Do to Keep it Safe?
Hi everyone! How is summer treating you? We have been inactive for a while, but we are back today with a guest post written by two climbers who visited Kalymnos for the first time this summer, Angelos and Vuslat. It is about anchor safety, an issue we have addressed before, both in the guidebook and here on Climb Kalymnos. When we wrote about it a while back, the comments by readers were overwhelmingly in favor of using two-ring anchors instead of clippable carabiners. However, after the first tragic fatal accident happened in Kalymnos last year due to errors while untying/re-threading at a two-ring anchor (by a very experienced climber), we stand even firmer in our conviction that clippable lower-offs are the best solution for Kalymnos. Below, Angelos and Vuslat write about how we can help prolong the life of anchor hardware and ensure every climber's safety. It affects every one of us and the solution is quite simple. (And please forgive our absence from Climb Kalymnos these past few months. We are holed up in our offices finishing the all-new Kalymnos guidebook, and trying to get it published by late September. Updates to follow soon.)

Many, many thanks to Angelos and Vuslat for stepping in, and we hope you are all enjoying life wherever you are!

_____

A Climber's Paradise: What Can We do to Keep it Safe?

What makes Kalymnos an indisputable paradise for climbers worldwide is its limitless and beautiful crag options, each with breathtaking views of the island's spectacular nature surroundings. Another feature that is perhaps even more important to note, though often undermined, is the safety of the crags.

When we visited the island for the first time this summer, we noticed and appreciated how each and every project was carefully bolted, equipped, and maintained—a truly notable achievement since there are only a handful of people who have taken it upon themselves to maintain the island's 2000+ routes, and to update visitor information for the safety and benefit of all climbers.

We were thus disappointed to see, one after the other, climbers from all around the world and of all ages and levels, failing to respect the safety gears in-place: routinely, climbers around us were simply clipping their ropes on the established lower-offs without placing a single anchoring equipment of their own, and using the permanent gear for their large group of friends to top-rope on. Indeed, many of the fixed carabiners had substantial wear-and-tear, some with over 50 % of damage caused by ropes eating through the metal over time (Photo 1).

Out of curiosity, we walked around various crags and spoke to neighboring climbers over the course of a week to see how they were doing things. It occurred to us that the vast majority of tourist climbers did not understand why top-roping on permanent gear risks not only their safety, but also the safety of other climbers.
All of this is easily preventable.
Anchoring, as we should all know, is one of the most basic safety measures in climbing.
Building your own anchor or enhancing the already set up anchor when top-roping outdoors is not just important; it's imperative. Nobody wants to finish climbing a nice project only to see the fixed carabiners at the anchor in a dangerous state. Simply put: YOUR safety and everybody else's SAFETY MATTERS.
If you lead a route and want to set the anchor for your group to top-rope on, then that makes you responsible for THEIR safety as well as YOURS. So, be responsible and devote a few more minutes to set a suitable and safe top-rope anchor that removes the load from the permanent carabiners. There are many ways to set a top-rope anchor and the Kalymnos guidebook explains some of them. For example, adding a couple of quickdraws or even a single locking carabiner to the anchor can be an easy and safe solution (Photo 2).
Here's a quick guide:
Clip the rope onto the fixed carabiners when you are at the top of the route. Place 2 short quickdraws with at least one locking carabiner with their gates opposite and opposed, above the fixed carabiners and onto the bolts. Clip the rope to your own quickdraws as well. Notice the direction of pull and make sure the anchor weight is equalized. In this way, the weight gets distributed through both quickdraws without overloading the permanent gear, thus prolonging the life of the fixed carabiners. In some cases, you can use one quickdraw or even combine quickdraws with locking carabiners to set an anchor and remove the load off the fixed carabiners. Once your group is finished with top-roping, remove only your quickdraws from the anchor, but leave the rope running through the permanent lower-offs so that you can lower-off safely. The use of a Personal Anchoring System (PAS) throughout the whole anchoring and removal of the equipment is advised. (
Admin's note: This applies not only to top-roping but to leading routes as well. When you are projecting a route, i.e. you know you will leave your gear in place and try it repeatedly, or when several people in your party want to lead the same route, leave extra gear at the anchor and remove it after your final attempt.
)
We all come to Kalymnos for the diversity and the quality of the routes, and to have fun on this beautiful island. Aris and his team are doing a commendable job maintaining the crags as they rebolt over 100 projects annually. Let's now do our own part to keep Kalymnos safe and fun for everyone.
Till next time, climb on!
Angelos Katsanis & Vuslat Demirkoparan
_____
About the authors: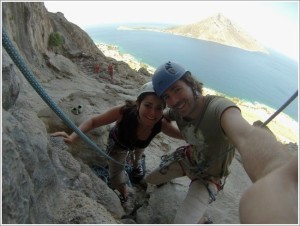 Angelos Katsanis is a researcher in Evolutionary Ecology at University of California, Irvine. Besides chasing after insects in the field, he is passionate about climbing.

Vuslat Demirkoparan is a Visiting Professor in the Writing Program at Soka University of America. Her newfound interest in climbing makes her wonder why she didn't start this sport sooner.

Both authors live in California, USA, and enjoy climbing outdoors especially in Joshua Tree, Yosemite, and from now on, Kalymnos! During the weekdays, they enjoy climbing at Chris Sharma's climbing gym, Sender One, where they also discuss climbing safety with its certified staff.
This entry was posted on Tuesday, August 11th, 2015 at 14:38 and is filed under Kalymnos news. You can follow any responses to this entry through the RSS 2.0 feed. You can skip to the end and leave a response. Pinging is currently not allowed.
7 Responses to "A Climber's Paradise: What Can We Do to Keep it Safe?"