A very sad day on Kalymnos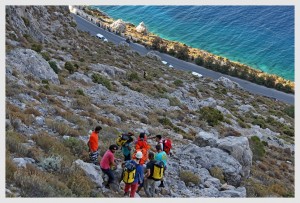 We were hoping this day would never come, but unfortunately the first fatal climbing accident on Kalymnos happened today. A Swiss climber lost his life this afternoon at sector Summertime/Magoulias Wall when he fell to the ground from the top of the route Fred 6b (30m). The exact cause of the accident cannot be determined, but it looks like the climber made a fatal error whilst untying and threading his rope through the lower-off, which is non-clipable (2 rings). The Kalymnos Rescue Team and the ambulance rushed to the crag, but it was already too late.
All of us here on the island, climbers and non-climbers alike, have been shocked and saddened by this unthinkable tragedy. On behalf of everybody on the Rescue Team and at Climb Kalymnos, we would like to extend our deepest condolences to the victim's family, who were with him at the crag, and to all who loved him.
We are so very sorry for your loss.
This entry was posted on Monday, July 21st, 2014 at 21:20 and is filed under Kalymnos news. You can follow any responses to this entry through the RSS 2.0 feed. You can skip to the end and leave a response. Pinging is currently not allowed.
23 Responses to "A very sad day on Kalymnos"
« Older Comments
« Older Comments