A virtual tour of the cliffs on Kalymnos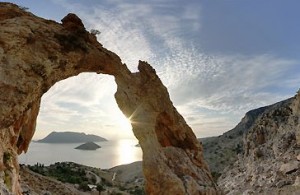 On a recent trip to Kalymnos, Matthieu Selme from France made some panoramic photo compositions by joining together multiple images. While most of us would agree that nothing compares to physically being there, these photo comps admittedly give a pretty good impression of the place and the ambience – certainly strong enough to make us fantasize about our next visit to the cliffs. The links to Matthieu's 360º panoramas are below. You can use your mouse for a virtual tour: left-click and drag to move around the photo, or just use the controls on the bottom of each image.
Thanks, Matthieu!




This entry was posted on Wednesday, April 28th, 2010 at 12:29 and is filed under Kalymnos news. You can follow any responses to this entry through the RSS 2.0 feed. You can skip to the end and leave a response. Pinging is currently not allowed.
One Response to "A virtual tour of the cliffs on Kalymnos"