Alex Honnold climbs Zenith 8b+ 40m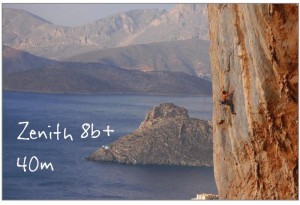 Named an Adventurer of the Year 2010 by National Geographic, 25 year-old speed climber and extreme soloist Alex Honnold is spending all of February in Kalymnos with his girlfriend. He climbs almost every day and has onsighted quite a few Kalymnos classics: Zero Chicon 8a, The Path to Deliverance 8a, Fun de Chichunne 8a, Daniboy 8a, Raptor 7c+, The Poison 7c+. Furthermore, he has redpointed Atlantis 8b, Gaia 8b, Spartan Wall 8b, Nadir 8b+, Hibiscus Market 8b+. His most recent success was the first redpoint ascent of Zenith 8b+, a superb new line opened recently by Simon Montmory on the smooth wall to the left of Grande Grotta. On his 8a.nu page, Alex gives it three stars and comments: "Thanks for letting me climb it, Simon. This is a pretty cool route that feels like a bigwall up top. Airy and awesome". (In photo above, Simon is pictured trying out Zenith)
Besides being a phenomenal climber, Alex sounds like an interesting and fun person as well. Check out also Alex Honnold's profile on Black Diamond. Below is a quote we liked:
Q: What's your dream trip? Where? With who?
A: Right now I fantasize about going sport climbing in Europe…with pretty ladies. But I'm sure once I go there I'll fantasize about going back to the Valley, or checking out walls in some other part of the world. I don't have a set 'dream trip'. I just like moving around and getting on new routes.
This entry was posted on Wednesday, February 23rd, 2011 at 19:17 and is filed under Kalymnos news. You can follow any responses to this entry through the RSS 2.0 feed. You can skip to the end and leave a response. Pinging is currently not allowed.
2 Responses to "Alex Honnold climbs Zenith 8b+ 40m"