Anchors and bolts on Kalymnos tested OK by PETZL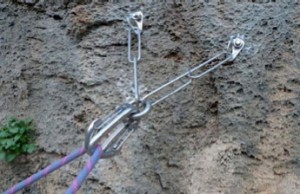 UIAA recently advised extreme caution for anchors in tropical marine areas, prompted by recent accidents caused by the failure of fixed anchors. To address concerns about fixed anchors on Kalymnos, in May 2009 PETZL took samples of about 50 bolts and hangers from all manufacturers and from several different sectors in Kalymnos. Some of the hangers tested had been the original hangers used to equip some of the first routes in Kalymnos in 1997 and 1998. PETZL also tested hangers and bolts appearing to be rusted, as well as hardware manufactured by Rockland, which presented with a superficial oxidization after just one or two years of use (i.e. from Odyssey –Inti Raymi wall—and Irox). The hangers were removed and collected by Eric Lescarcelle of PETZL and Aris Theodoropoulos, who is in charge of route maintenance on Kalymnos.
When testing of the hardware collected on Kalymnos was completed, PETZL via Eric Lescarcelle reported the following:
'Αs intended we tested all the anchors collected from Kalymnos. After analysis of the collected hangers, we did not notice any specific problem. We did not notice any traces of failure or crack and the resistance was above requirement. It is an interesting result and it means that with a regular replacement and maintenance, from the collected hangers we tested, the equipment of the routes at Kalymnos does not present any resistance problem. However, due the proximity of the sea and the real risk of corrosion, we encourage you to: a) Keep checking the corrosion of the anchor, b) replace in case of any doubt and c) keep an updated guidebook and history (web information…). For your information, we had a report of low resistance anchors by the seaside, under tropical conditions. We collected hangers in different locations such as Madagascar, Dominican Republic and we found out that 10 to 20% of analysed hangers had a really poor resistance, below standard. UIAA and other manufacturers are going to make a warning on the web to inform people about this phenomenon and advise climbers to care and check anchors before climbing'.

Yearly bolt maintenance
Last but not least, as agreed with the Municipality of Kalymnos, Aris and his colleagues continue to re-bolt, check and clean approximately 100-150 routes every year.
Your feedback is not only welcome, but essential. For any comments on weakened anchors and re-bolting suggestions, please contact us.
This entry was posted on Saturday, December 5th, 2009 at 00:24 and is filed under Kalymnos news. You can follow any responses to this entry through the RSS 2.0 feed. You can skip to the end and leave a response. Pinging is currently not allowed.
3 Responses to "Anchors and bolts on Kalymnos tested OK by PETZL"