Andrea Di Bari pays tribute to Kalymnos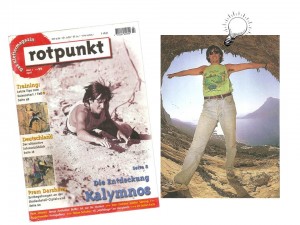 Everybody on Kalymnos knows Andrea Di Bari as the man who discovered the 'huge climbing potential on this Greek island', and we eagerly look forward to seeing him at the North Face Kalymnos Climbing Festival, where he is an official guest. But he is also a self-taught film director and screenwriter, and this week Planetmountain features Andrea Di Bari's 'Happy to be here', a short story / film theme paying tribute to Kalymnos with imagery so vivid you can feel the stones beneath your sandals. The photos below are from the first ever features of Kalymnos in 'Alp' and 'Rotpunkt' magazines (spring 1999) and from our archives.
This entry was posted on Thursday, July 5th, 2012 at 13:25 and is filed under Kalymnos news. You can follow any responses to this entry through the RSS 2.0 feed. You can skip to the end and leave a response. Pinging is currently not allowed.