Approach to sector Arginonta made safer by climber initiative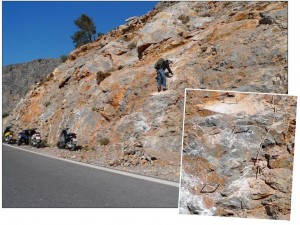 Sector Arginonta has decidedly become one of the most popular climbing crags in Kalymnos. Gorgeous village and bay views aside, the markedly short approach and abundance of gorgeous, varied routes in the low and middle grades are quickly turning this crag into a Kalymnos mid-grade classic. This month, Arginonta was teeming with climbers every single time we drove by. As the crag sits directly above the new road to Vathy, the start of the approach path was destroyed when the new road cut through the mountain. As a result, the first few meters involved a sketchy climb up a steep section on loose rock –aided by a fixed rope – to reach the path. Besides the climb being unsafe for beginning climbers or children, the fixed rope also tended to 'disappear' from time to time; it was replaced, then disappeared again a few months later. Even though the placement of permanent metal rungs in the rock had been requested repeatedly, it had yet to materialize. Until Oct. 28th, when Siggi Mühlbacher, a German climber, took it upon himself to place permanent, stainless via ferrata – type metal rungs, which he himself provided, onto the rock. Siggi is a loyal friend of Kalymnos. He has been here many times and put up new routes with fellow climbers Angie Hafner and Christian Schmidt. We would like to publicly thank not only Siggi but all climbers who have contributed their time, effort and hardware over the years to make Kalymnos a well-organized global climbing destination. A major part of the credit belongs to climbers from all over the world for quietly, efficiently and often anonymously going out of their way help develop safe climbing conditions on Kalymnos.
To all of you, a big, heartfelt Thank You!
This entry was posted on Tuesday, November 1st, 2011 at 14:08 and is filed under Kalymnos news. You can follow any responses to this entry through the RSS 2.0 feed. You can skip to the end and leave a response. Pinging is currently not allowed.
2 Responses to "Approach to sector Arginonta made safer by climber initiative"