Arginonta update: Loose blocks removed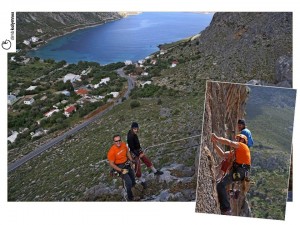 As most of you know, access to one of the island's most popular crags, Arginonta, was restricted for several months. A severe thunderstorm in November 2013 and the ensuing rock fall had caused a big flake to come loose and hang precariously from a single bolt (!) 30m above the ground. The good news is that the big flake and all other loose rocks have now been removed. On Friday, a team of three (Claude Idoux, George Kopalides, Aris Theodoropoulos) started by evacuating the crag and cordoning off the Arginonta-Vathy road; then, with crowbars they detached some very big loose blocks from the top of the route Kosmas, along with several smaller rocks.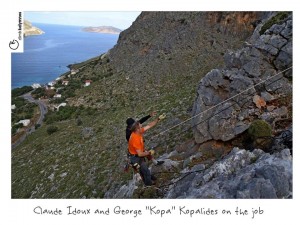 The team replaced the heroic lower-off of Kosmas (which had held on to the loose block since November) as well as the lower-offs of routes Freestyle and Test Under Stress. The new lower-offs have all been positioned slightly lower than before. Other bolts were also replaced as needed, as were the hangers that had been removed from high-risk routes after the rockfall to ensure people did not climb them against their better judgment. Lastly, the area under the cliffs was cleaned from all the debris and loose rock.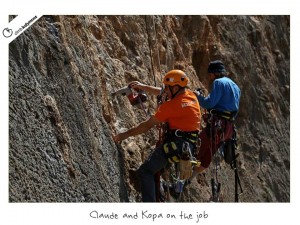 The only non-climbable route at the moment is No Mercy. Not because of loose rock, but because the first few hangers are still missing; they will be replaced shortly and we will update here.
April 16th update: The hangers have been replaced so No Mercy is now OK to climb.
The crag is quite dusty from all the cleaning and drilling, though Friday night's rainfall (coupled with the 40 or so climbers at the crag on Saturday morning, according to our friend Chris) may have helped to clean the crag sooner than later. The "inactive" routes have also grown somewhat grassy, so be prepared to do a bit of gardening when climbing.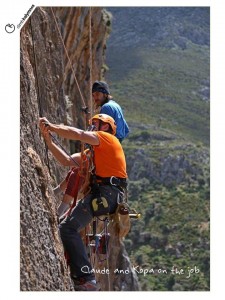 To recap:
• It is safe to climb at Arginonta again. Loose blocks have been removed.
• Routes Kosmas, Freestyle and Test Under Stress have new lower-offs which are positioned slightly lower than before.
• Route No Mercy cannot be climbed yet. It is missing the first few hangers, which will be replaced shortly.
April 16th update: The hangers of No Mercy have been replaced and the route can now be climbed.
That's all, folks! Enjoy this beautiful day.
Disclaimer: Climbing is inherently dangerous. A rock fall or other cause of injury can occur at any time without warning. The volunteers who clean and rebolt routes on Kalymnos are not responsible for your safety at the crag. You are responsible for your own safety – so please use good judgment and take all safety precautions when climbing.
This entry was posted on Sunday, April 13th, 2014 at 11:06 and is filed under Kalymnos news. You can follow any responses to this entry through the RSS 2.0 feed. You can skip to the end and leave a response. Pinging is currently not allowed.
5 Responses to "Arginonta update: Loose blocks removed"