Attention climbers! Bad bolts & routes to avoid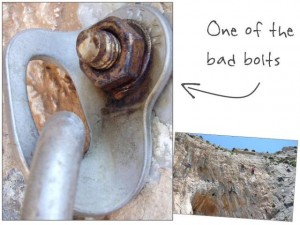 *Updated Jan 8th* To all climbers: please read this entire post for a list of routes with potentially bad bolts. A batch of defective bolts sold between June 2010 – January 2011 by manufacturer Rockland has been recalled, but unfortunately at the time of the recall several of these bolts had already been used to equip new routes on Kalymnos. Please note that the routes with potentially defective bolts are recent, so they are not in the guidebook. When we found out about the bad bolts we contacted all equippers (that we know of) who bolted routes in the past year to try and locate those with Rockland bolts, but we haven't been able to track down all the routes yet.
Here's a list of routes where defective Rockland bolts may have been used. Chances are that most of these routes are safe, but until we are able to check and/or replace ALL bad bolts we strongly suggest you do NOT climb them. We will update the list as needed, so please keep checking back.
Routes
SECTOR STYX
Circus 7a+, 17 bolts, 35 m,
Ingo 6b, 14 bolts, 25 m
No Exit 6a+, 15 bolts, 45 m
Metro 6a+, 17 bolts, 47 m
SECTOR GREAT CANYON (new sector between Arhi Right and Sea Breeze Left)
Melomakaronas 6c 35 m
Mystic Land 7a 35 m
Plastic Surgery Disaster 7b 32 m
Art in the Air, 7a 34 m
Vromikos 6c, 33 m
Boulderhoelle 6b+, 33 m
Xazouli 6b, 32 m
Xazouli Ext 6c, 38 m
Me Ponaï 6c, 32 m,
Rock Out 6c, 20 m
Loubis's Angels 6b
Brave a New World 5c+, 16 QD
Divine Comedie 7a,
Sex Pistols 7a
Tzatziki kai Sokolate 7b
Beta Lambda 7b+
SECTOR GREY ZONE (left of Pocket Wall)
Fasolada 6a slab
— Bolts OK
In Dubio 6a
— Bolts OK
Falakro 5b+
— Bolts OK
Saphirniac 6c 38 m
Utopia 6a, 20 m.
— Bolts OK
Utopia Ext 6c, 36 m
— Bolts OK
SECTOR ARGINONTA
Bolt-Obsession 4c
— Bolts OK
BB 5a, 20 m
— Bolts OK
Takis rare 4a
— Bolts OK
No Blabla Do It 4b
— Bolts OK
Mammut Step 4c
— Bolts OK
Kolhinet Kafhouille 7a Extension of Avri — Bolts OK
SECTOR BIG SHADOW
Ratten 7a, 10 bolts, 20 m
Metralos 6a+, 12 bolts, 30 m — Bolts OK
Cacou 6a+, 10 bolts, 25 m — Bolts OK
Vicking 6a, 12 bolts, 25 m — Bolts OK
Directos 6b, 13 bolts, 30 m
Grim 6b, 13 bolts, 30 m — Bolts OK
Grim Ext 6c+, 20 bolts, 50 m — Bolts OK
Cosi 7a+, 15 bolts, 30 m
Taupe the Rop, 7b, 13 bolts, 28 m
SECTOR NORTH CAPE
Reize 7a, 14 bolts, 25 m
Leone 6a+, 14 bolts, 30 m
Please note that the hangers by Rockland are safe; the problem is with the bolts. In some cases hangers from other companies are combined with Rockland (2010-11) bolts or vice-versa.
We apologize to the equippers for temporarily "blacklisting" their routes. This has nothing to do with the beauty of the route or their equipping skills, but strictly with the bad quality of the bolts. There are plenty of other routes to climb on Kalymnos in the meantime and safety should always, always come first.
This entry was posted on Thursday, November 17th, 2011 at 23:33 and is filed under Kalymnos news. You can follow any responses to this entry through the RSS 2.0 feed. You can skip to the end and leave a response. Pinging is currently not allowed.
15 Responses to "Attention climbers! Bad bolts & routes to avoid"