Attention: Please do NOT go near or climb at Infrared Wall, Arginonta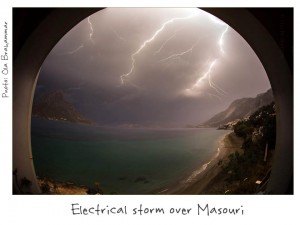 Following a severe thunderstorm a couple of days ago, there was a big rock fall at sector Arginonta, specifically at subsector Infrared Wall. In the picture below you can see the lower-off of route Kosmas holding a big loose block (which is otherwise hanging by a thread just waiting to fall). Until somebody can go check things out, please don't go near Infrared Wall. That means anything past the route 'Papou' (to its left) is off-limits: don't go up there curious to see the loose block, don't park your gear at the base of any routes nearby, and find a different place to pee. We will post an update as soon as we have one. Thanks for understanding!
This entry was posted on Sunday, November 17th, 2013 at 21:58 and is filed under Kalymnos news. You can follow any responses to this entry through the RSS 2.0 feed. You can skip to the end and leave a response. Pinging is currently not allowed.
4 Responses to "Attention: Please do NOT go near or climb at Infrared Wall, Arginonta"