'Bolt tightening' kits at six popular Kalymnos crags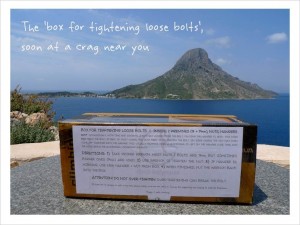 On occasion you may have noticed a 'spinner' when you climb – in other words, a loose hanger. This happens when the nut attaching the hanger to the bolt comes loose. Nuts come loose as a result of time, ascents and leader falls, not bad bolts, and they can usually be tightened on the spot. But since most climbers don't routinely pack a wrench with their gear, the idea for a quick fix came up: Why not place a kit for tightening bolts at certain busy crags and see how it works? Six boxes with bolt tightening kits will therefore be placed at six of the most popular crags in Kalymnos (Grande Grotta, Odyssey, Spartacus, Arhi, Ghost Kitchen, and Sikati Cave). Each box will be protected under an assigned overhanging route, and will contain two wrenches (17mm and 19mm) along with some spare nuts and hangers (because sometimes the nut and hanger may come off entirely: this usually happens when a quickdraw is left on a hanger for a long time and spins in the wind). The kits are a small but hopefully practical measure for each climber to help keep climbing on Kalymnos safe and organized.
So next time you see a spinner at one of these crags, look for the re-purposed shoe box; each is clearly labeled, as in the photo, with a 'box for tightening loose bolts' sticker and 'how-to' instructions. Many thanks go out to Eric Maanders for coming up with the idea, and to his clients for distributing the boxes within the next few days. Wrenches, nuts and hangers are provided by Climb Kalymnos.
WHERE TO LOOK FOR THE BOXES
• Grande Grotta, under route 'Aegialis'
• Odyssey, under 'Marci Marc'
• Spartacus, under 'Daniboy'
• Arhi, under 'Eros'
• Ghost Kitchen, under 'Remember Wadi Rum'
• Sikati Cave, under 'Lolita'
HOW TO TIGHTEN A LOOSE NUT
• Take proper wrench. Most nuts / bolts are 17mm, but sometimes bigger ones (19mm) are used.
• Use wrench to tighten the nut just enough. Do not over-tighten it, or the bolt may break!
• If the hanger is missing, use a new nut + hanger from the box.
• When you're done, return the wrench to the box. Please respect this initiative and don't pocket the wrench.
• Make sure the box is back at its assigned spot.
If there are no more hangers or nuts left in the box, please let us know and we will refill it.
This entry was posted on Monday, May 13th, 2013 at 12:24 and is filed under Kalymnos news. You can follow any responses to this entry through the RSS 2.0 feed. You can skip to the end and leave a response. Pinging is currently not allowed.
10 Responses to "'Bolt tightening' kits at six popular Kalymnos crags"