Climbers boycott Telendos crags to protest the doubling of boat fare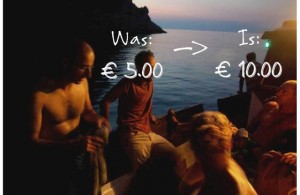 Until last month, the return boat fare from Kalymnos directly to sector Irox, in Telendos, was €5.00 per person (for groups of 10 or more climbers). Today, not only has it increased to €10.00 per person for groups of 10 or more climbers, but it has come to include a compulsory stopover at Telendos harbor. As a party of 13 climbers reported this morning, when they pointed this out to the boatmen the answer they received was: 'That's the way we do it now'.
Simply put, this means:
Myrties to Telendos €4.00 return fare + Telendos to Irox €6.00 return fare = €10.00 per person.
That's a price increase of 100% just as the climbing season is entering its peak.
Apart from the obvious issue, climbers also resent being 'coerced' into stopping over at Telendos harbor. All through the summer, when boats went directly to Irox, most climbers probably stopped at the harbor on their way back for a beer anyway. Climbers love spending time on Telendos – it's no accident that we often speak of the Telendos experience, not just the climbing.
The immediate reaction of climbers has been to spread the word to fellow climbers and to effectively boycott Telendos crags as of today. Their argument is rock-solid: 'There's more than enough climbing for us on Kalymnos.'
(Photo: On the way from Irox back to Telendos for dinner, August 2010)
This entry was posted on Saturday, September 25th, 2010 at 12:06 and is filed under Kalymnos news. You can follow any responses to this entry through the RSS 2.0 feed. Both comments and pings are currently closed.
19 Responses to "Climbers boycott Telendos crags to protest the doubling of boat fare"
« Older Comments
« Older Comments