'Impossible' love? Adam Ondra climbing in Kalymnos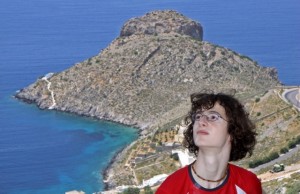 For fans of Adam Ondra, Kalymnos, or both, our friends over at 9b have just sent us a short preview of "'Impossible' love?", a film about Adam soon to be released. This preview, the first in a series of three, is just under 4 minutes long, and it was filmed during the 4th Climbing Festival of Kalymnos in May 2009. The Czech climber, now 17, is shown trying out Los Revolutionarios 9a at sector Odyssey (which he redpointed after 6 tries), as well as other supernatural climbs at sectors such as Sikati Cave and Grande Grotta. Also featured briefly are the fantastic Maja Vidmar and the inspirational Urko Barandarian. Between climbing scenes Adam shares his thoughts on climbing, and on whether it is, indeed, an 'impossible' love. Enjoy!
This entry was posted on Wednesday, August 25th, 2010 at 17:51 and is filed under Kalymnos news. You can follow any responses to this entry through the RSS 2.0 feed. You can skip to the end and leave a response. Pinging is currently not allowed.