De Charybde en Cila, another great multipitch on the South Face of Telendos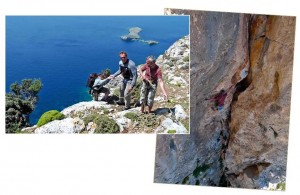 Though there are a few densely bolted and safe multipitch routes on Kalymnos, the vast majority of routes on the island are single pitches. The same cannot be said about Telendos: the small island already features several multipitches; most notably the now classic Wings for Life and Wild Country, which always seem to be taken. The latest addition to the excellent south face of Telendos is De Charybde en Cila (6b+ 210m), equipped last year by Claude Idoux and André Langenbach.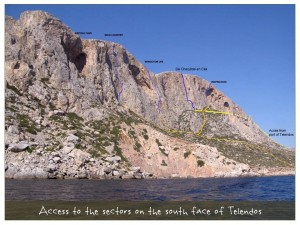 Claude Idoux, a Kalymnos resident and very active equipper, originally thought it a good idea to bolt a new route near Wild Country so that two climbing parties can climb simultaneously. But he was in for an epic adventure: before Claude started drilling, he left notices everywhere at the Myrties jetty and at the village of Telendos, alerting climbers to refrain from climbing Wild Country because of the risk of falling rock. But of course- Murphy's law- a climbing party had to appear below just then, as Claude was preparing to dislodge a massive boulder! He called out, hollered, waved frantically, but as he was suspended hundreds of meters above ground communication was impossible and they started climbing. Finally Claude spent the day stranded up there, boulder in arms as he supported it against the rock, until the climbers were out of range. As he found out later, the two climbers had taken a boat to the south face from a different jetty, not the usual at Myrties, so they were oblivious to any notices.
After this near-miss, Claude moved his idea for a new multipitch further right.
The new route, De Charybde en Cila, 6b+ 210m, was equipped on April 8th 2012 by Claude Idoux and his fellow Frenchman André Langenbach between the multipitch routes Wings for Life and Inspiration.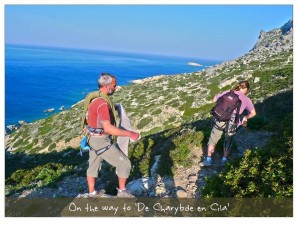 Approach: From the village of Telendos, head southwest to the beach of Hochlakas. At the Paleochristian chapel go right following the yellow marks. A bit further, pass through the goat gate. Walk uphill about 150 meters. You will see a large cairn marking a junction of trails. Keep straight ahead (right) following the yellow marks (1 hour 15 min). The route starts opposite the lone olive tree which grows practically at the foot of the cliff.
Return: Head north following the cairns and then the red marks to the chapel of Aghios Konstantinos and the village of Telendos (2 hours). Make sure to stay on the path and don't try to take short cuts.
Note: Abseiling down the route is possible but not recommended.
Last May, we had arranged to meet Claude at 7am at the Myrties jetty. About twenty climbers already waiting with their gear at the jetty. It felt like Chamonix, where the alpinists wait around for the cable car to take them into the mountains! There were two climbing parties with us, French and Italian, respectively. The approach is relatively smooth, parallel to the sea, with hardly any steep bits, and it passes through beautiful, wild terrain.
PITCHES:
R1: 6a 25m 11QD. Easy start, hard wall shortly before the anchor.
R2: 6a+ 30m 11 QD. Traverse rightwards; a challenging,
slightly overhanging wall on small, sharp holds (could be 6b).
R3: 20m 2QD. Leftward traverse and walk.
R4: 6b 35m 14 QD. Smooth, vertical wall.
R5: 6b+ 35m 14 QD. Slightly overhanging.
Perhaps the most beautiful pitch.
R6: 6b+ 35m 13 QD. A consistently interesting slab.
R7: 6a 20m 13 QD. Attention – loose blocks above the anchor.
R8: 6b 30m 13 QD. An 'airborne' exit, the icing on the cake!
The final anchor is a bit further up behind a big lodged block.
The view from the top is unbelievable, even for those of us who
take the beauty of Kalymnos for granted!
Have you climbed De Charybde en Cila? If so, we'd love to hear your thoughts.
This entry was posted on Saturday, November 9th, 2013 at 01:15 and is filed under Kalymnos news, New Multi-pitches. You can follow any responses to this entry through the RSS 2.0 feed. You can skip to the end and leave a response. Pinging is currently not allowed.
2 Responses to "De Charybde en Cila, another great multipitch on the South Face of Telendos"