Families and Kalymnos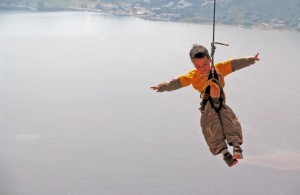 Kalymnos is a popular destination for climbers with families, and rightly so. It has superb rock climbs for all abilities, an ambience that is lively but not mainstream-busy, and the local people are very welcoming towards guests on their island and, noticeably, their children. Children who climb are very well-served, with more than 360 routes in grades 3 to 5 for those who are taking their first steps in the sport. These routes are almost universally well-bolted. (And there's eight 9a's or harder for the teenage superstars!).
The island also has sufficient activities for the non-climbing members of the family. There are plenty of fine walks: fabulous coastal footpaths (often to remote small blue-and-white Greek chapels) plus more rugged ascents through thyme and other herbs to the summits on Kalymnos, Telendos… and the Aegean panorama. On rest days, the family can head for the immediate west coast beaches of Massouri–Myrties–Kantouni. Although there's shingle and dark sand in places, these are fine for all the usual activities. Other island beaches, such as Vlychadia and Emporios, are totally class for family picnicking and safe swimming. For the more energetic, there's a wide range of water sports including sea-canoeing and, especially, sub-aqua/scuba (… the island is deservedly famous for its International Diving Festivals) or just jumping in from the low rocky headlands!
Also visit Pothia (a small but 'buzzing' port) with its waterside cafes and excellent local museums, such as the strikingly chic Folklore and Archaeological Museum. Also check out the sponge diving museum to see how life used to be for the islanders. Don't miss the Byzantine ruins, such as the castle at Hora, as well as the guided cave system at Kefala. For further ideas, visit:
Many families take their children to the crags. Those wishing to do the same must make the final decision themselves. No crag is a totally safe environment, and parents are wholly responsible for evaluating the risks. To give some guidelines to visitors, however, we are considering adding a rating to each crag to show how it compares with other European venues in this respect.
If you feel you can comment or add to the list below, we would be delighted to hear from you.
-No Stars: Do not bring children to this crag. Too many risks. Leave them with friends on the beach.
Malham catwalk (England); Cheyne cliff, Portland (England); Castillon, Menton (France); Bec de l'Ase, Durance (France); Bielsa (Spain); Cala Fuili, Settore Pe deriva (Sardinia); Owens River Gorge (USA); Grande Grotta (Kalymnos)
-One Star (*): Always have at least three adults in the party so that the person not climbing is able to supervise at all times. Often a difficult approach to the crag. Many precautions and continuous supervision needed.
Gordale (England); Foron (France); Bauchet (France); L' Oasif (Gorge de Tarn); Toix East (Spain); Bruixes, Terradets (Spain); Playa de Tijuana/Cala Santani (Majorca); Jurassic (Kalymnos)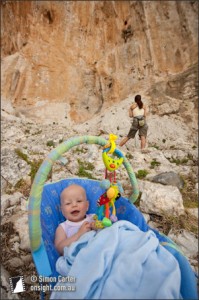 -One/Two star (*/**):
LPT (Wales); Chateau, Orpierre (France); Toix West (Spain); Kastri (Kalymnos)
-Two Star (**) With sensible precautions and three adults in the party, a reasonable choice.
Kilnsey (England); Raven Tor (England); Battleship (Portland, England); Tina Dalle (France); Baume Rousse (France) (France); Claret (France); Sector Espero Primavera, Siurana (Spain); Pilas, Montanejos (Spain); Rottachberg, Allgau (Germany) ; Simplon Dorf (Switzerland); Lehn (Switzerland); Burs (Austria); Didyma (Argolis, Greece); Pili Little Gorge (Greece); Rifle (USA); Kasteli (Kalymnos); Ghost Kitchen (Kalymnos)
-Two/Three Star (**/***):
Ablon (France); Mazet Plage, Ardeche (France); St Leger (France); La Source, Saint Jeannet (France); Lliber , Jalon Valley (Spain); Montgrony, Sector Parking (Spain); Cuenca, Ermita (Spain); Sector Aquest any Si, Rodellar (Spain); Santa Linya (Spain); Massone (Italy); Smith Rock, Dihedrals (USA); Symplegades (Kalymnos); Odyssey (Kalymnos)
-Three Star (***): A relatively safe choice though three adults is still the best option.
Rocher Baron, Secteur Principal, Durance (France); Mouries (France); Balme de Yenne (France); Sella, Techo del Rino (Spain); Forada, Costa Blanca (Spain); Valdehuesa (Spain); Zeus (Kalymnos); Poets (Kalymnos)
-Carl D.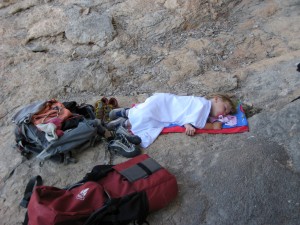 This entry was posted on Tuesday, March 16th, 2010 at 23:39 and is filed under Kalymnos news. You can follow any responses to this entry through the RSS 2.0 feed. You can skip to the end and leave a response. Pinging is currently not allowed.