Getting from Kos to Kalymnos: a step-by-step guide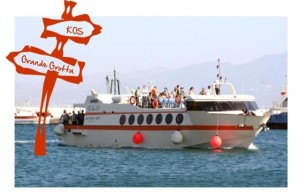 The peak of the Kalymnos climbing season is coming up, and for many climbers traveling to Kalymnos the best option is to fly to the neighboring island of Kos. Kalymnos and Kos are very near, but if this is your first time traveling via Kos you might be wondering how to get to Kalymnos, and, most importantly, how much extra time and money will it require? Isn't it best to fly straight to Kalymnos instead? Here's a step-by-step guide to help you make informed decisions the next time you plan your Kalymnos climbing holiday.
Flying to Kos: pros and cons
PROS (+)
(+) The airport at Kos is international (it can receive flights from other countries); the airport at Kalymnos is not (there is one flight daily to / from Athens only).
(+) The airport at Kos is bigger. This means that the planes flying to Kos are also bigger; therefore they are not as affected by the weather conditions as the smaller planes flying to Kalymnos. The Athens – Kalymnos flight has been cancelled on occasion due to gusty winds (if this happens and you are already at the airport in Athens, run to the ticketing desk of Olympic Air and ask to get onto the next flight to Kos, usually a few hours later).
(+) There are about 5 flights daily from Athens to Kos; there is only one flight daily from Athens to Kalymnos. Translation: ticket prices to Kos vary, and if you book early you can get some very cheap prices. The prices for the Athens-Kalymnos flight are fixed. At the moment, the Athens – Kalymnos roundtrip fare is a staggering €203 per person (updated April 2012).
(+) With so many flights to Kos, there is more availability. It is quite possible to get onto a flight to Kos at the last minute; on the other hand the flight to Kalymnos fills up early, since there is only one plane (and a small one, at that).
CONS (-)
(-) The obvious drawback when you fly to Kos is that you can't just leave the airport, drop everything off at your room and run to the cliffs. Instead you have to take a taxi to the port, wait for the boat to Kalymnos (anywhere from a few minutes to 8+ hours if your flight comes in late at night), then take another taxi or bus from the port of Kalymnos to your rooms. And this can end up costing more than you think: besides the taxi and boat fares, if you have to wait for the boat for a few hours you'll probably spend money on beers, food, even a room for the night (however: you probably saved a lot of money on a cheap ticket to Kos in the first place, so this drawback may not apply).
What to do when you arrive in Kos
1. Collect your luggage as soon as you can. Don't waste time at the airport, since you need to get to the port of Mastichari (or Mastihari) straightaway and onto the next scheduled boat to Kalymnos. There are plenty of shops and cafes at the pier if you do end up with time to kill before your boat departs.
—
2. To get to Mastichari, take a taxi from the airport. The drive is short (~ 10 min). Clarify with the taxi driver how much the ride to Mastichari costs. Naturally we like to think of most taxi drivers as decent hardworking people, but climbers have occasionally complained about being overcharged. The consensus seems to be that a taxi ride from the airport to Mastichari costs around €15 per ride, not per person. So the best advice we can give you is to clarify the total price before you take the taxi, and expect to pay about €15 per taxi. A cheaper alternative is to take the bus from the Kos airport to Mastichari. Buses are not very frequent, but if you have time to wait or happen to see the bus coming, it can be very cost-effective. Perhaps you can get some information about the bus schedule at the airport.
—
3. When you arrive at Mastichari go to the kiosk by the pier to find out when the next boat to Kalymnos departs. You will also get your tickets there.
—
4. When you arrive at the Kalymnos port, in all likelihood there will be taxis waiting. If you book your accommodation ahead of time, ask whether they will pick you up at the port. If you need a taxi but there is none, you can call the Kalymnos taxi station (number below). You can also rent a scooter or car at the port, or take the bus (main station in front of City Hall).
In case of bad weather
The sea connection between Kos and Kalymnos is disrupted only by very severe winds. This doesn't happen often. When it does, the best option is to stay an extra day until sea travel is restored. However, if it is imperative that you leave immediately (due to work, school, or another emergency) try contacting Capt. Arvithis. His vessel travels between Kos and Kalymnos in all weather conditions, but the cost is much higher (there is no fixed price; it depends on the number of people on board).
Useful links & numbers
WEB
Fast ferry timetable (enter from Kos – Mastihari to Kalymnos in respective fields)
Slow ferry timetable
Olympic Air (for Athens / Kalymnos and Athens / Kos tickets)
Aegean Airlines (for Athens / Kos tickets)
PHONE
Kos-Kalymnos Slow Ferries (ANEM Ferries): 0030 22420 59124 / 59027
Kos-Kalymnos Fast Ferries (ANEK Ferries): 0030 22430 29612
Kos Port Authority: 0030 22420-26594
Kos Taxi Station: (0030) 22420-22777
Kalymnos Taxi Station: (0030) 22430-50300
Capt. Arvithis in case of severe weather: (0030) 697-747-0993
This entry was posted on Sunday, September 26th, 2010 at 17:37 and is filed under Kalymnos news. You can follow any responses to this entry through the RSS 2.0 feed. You can skip to the end and leave a response. Pinging is currently not allowed.
31 Responses to "Getting from Kos to Kalymnos: a step-by-step guide"
Newer Comments »
Newer Comments »