Kalymnos featured at the 2011 Outdoors Show in London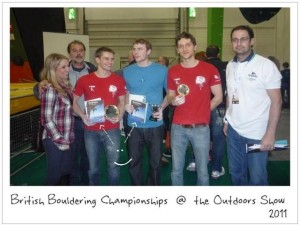 The 2011 Outdoors Show in London last week (13-16 January) had a distinctive climbing character; it hosted the 2011 British Bouldering Championships in the Junior and Senior categories, plus several climbing walls free for people to try. There was also a Kalymnos connection at the show: a special Kalymnos 'corner' at the stand of the Greek National Tourism Organization, where answers to questions and information about the island were provided by representatives from the Kalymnos Municipality and the Hoteliers Association. As they reported, a great deal of people inquired about Kalymnos as a destination not only for climbing but also for family holidays. No doubt Kalymnos received extra points by Neil Gresham's presentation at the show about his 'Kalymnos adventures'; furthermore, the first three winners in each bouldering category were awarded the new Kalymnos guidebook, courtesy of the author.
According to the Outdoors Show's website, this year more than 5,000 people tried climbing for the first time. No previous experience was necessary and all the safety gear and expert tuition was free to visitors. The representatives from Kalymnos are optimistic about their participation in the show, as they established a number of new contacts with travel professionals and potential visitors. Although tourism has not suffered in Kalymnos as it has in most other parts of Greece (anyone visiting Kalymnos in October can attest to this), our visibility abroad is much needed. As people keep coming to the island there will be increased pressure and incentives for improvement, i.e. in travel connections by air and sea or in cost-effective travel packages; however, let's hope that the focus is not only in increasing the numbers, but also in improving the quality of our services and in making sure we protect the enormous natural capital of Kalymnos by making all new development sustainable.
This entry was posted on Saturday, January 22nd, 2011 at 10:23 and is filed under Kalymnos news. You can follow any responses to this entry through the RSS 2.0 feed. You can skip to the end and leave a response. Pinging is currently not allowed.
One Response to "Kalymnos featured at the 2011 Outdoors Show in London"