List of Rebolted Routes and Answers to Frequently Asked Questions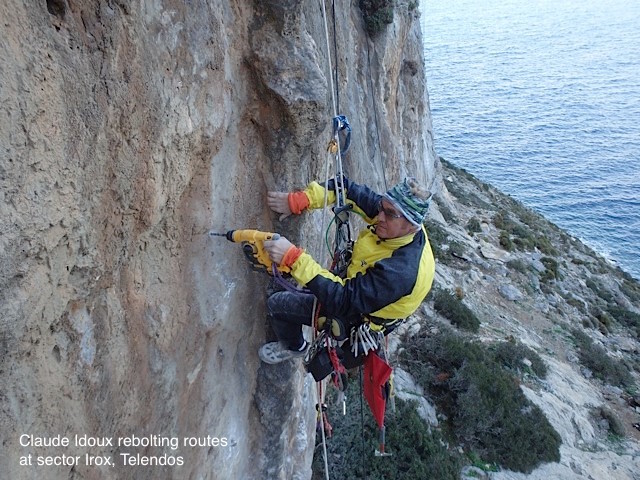 After a winter that never was, spring has sprung and Kalymnos is at its very best. Bright, fresh, and smelling "like an herb garden", it is gradually opening for business in the wake of the largest rebolting project to-date. Which routes were rebolted? What is the refugee situation in Kalymnos? Is there a festival this year? Our inbox is increasingly filling with questions like these, a sure sign that the climbing season is heating up. Read on for all the rebolting details and answers to more of your frequently asked questions.


Which routes were rebolted?
The
municipal rebolting project
was completed in early 2016. In total,
297 routes were partially or fully rebolted
across numerous sectors in Kalymnos and Telendos, including some very popular lines like the two multi-pitches on the South Face of Telendos,
Wings for Life
and
Wild Country
.
The rebolting team
:
George Kopalides
Claude Idoux
Alexandros Istatkof
Dimitris Titopoulos
Helping the rebolting team
:
Paschalis Alexandris
Dimitris Dovellos
Stylianos Xanthakis
Panormitis Platsis
The rebolting project was overseen by Aris Theodoropoulos.
New routes
In addition, a required
100 new routes were added
, mostly in two brand-new crags. The new crags feature long hours of shade and a variety of grades and styles of climbing. No further information is available about the new sectors at this time, since
the new routes are not ready to be climbed yet
. We will update here with more information when the new crags are safe to climb.
For the full list of rebolted routes scroll down to the bottom of the page; the list is also available to download as a printable pdf.

CAUTION: SECTOR BIG SHADOW

Big Shadow (pages 176-177 in the new guidebook) is an impressive shady wall high above the road to Arginonta. The bolts at Big Shadow are in increasingly bad shape, to the point where all routes need to be re-bolted. Many of those bolts are by the now-defunct Greek manufacturer Rockland, whose materials proved to be downright problematic.

Big Shadow was on the list of sectors to be re-bolted; however, the municipal re-bolting program only covered 300 routes and other, more popular sectors routinely visited by thousands of climbers had to be prioritized. We are hoping to re-bolt Big Shadow in the near future, whether voluntarily or within the context of an official maintenance program.

We advise climbers not to climb at Big Shadow until further notice.


What is the refugee situation on Kalymnos?

According to the local volunteer group, there are about 15 refugees on Kalymnos at the moment after weeks of almost no new arrivals. The flow of refugees from Turkey to Kalymnos varies; sometimes there are none, other times there are a few dozen refugees on the island. However, being further away from the Turkish coast compared to islands like Lesbos, Chios or Kos, Kalymnos receives much fewer refugees. The people who do arrive here are housed in temporary shelters set up by UNHCR near the port of Kalymnos, on the southeast coast, as well as in an older building in the area. The climbing areas are on the other side of the island, mostly on the west and north. Similarly, in Kos the refugees get shelter near the port in Kos Town, some 25km east of the airport and the port of Mastichari, which is where the local ferry to Kalymnos departs.

Despite the lack of resources, hundreds of volunteers all over Greece have done an amazing job providing food, clothing and general support to the refugees under very dire circumstances. If you are keen to help here in Kalymnos, you can. Please contact the local volunteer group, and they will let you know if they need food, clothing, extra hands or something else.

Another way to help: don't be afraid. The refugees in Kalymnos are treated with humanity and compassion, and there hasn't been any violent incident or cause for safety concerns. Climbing tourism is the island's lifeline, and the hard-working people of Kalymnos are doing everything in their power to keep it safe and welcoming. Let's stand by them.

Where can I get the ferry timetable?

Right here. The ferry timetable can almost always be found on our homepage. There are two ferries operating between Kos and Kalymnos, a fast and a slow ferry. The ferries operate year-round except on days with very strong winds. The ferry timetable changes nearly every month depending on season and the Kos flight schedules. If your flight arrives at Kos in the evening you will most likely be able to catch the last ferry of the day to Kalymnos. For more info, check out the ferries section on our site and this older post.
Do the ATMs have enough cash?

Yes. Capital controls are still in effect in Greece, but in a way they have become the new "normal"; queues or cash shortages at the ATM are now infrequent. As long as your ATM card is from a non-Greek bank, you can make cash withdrawals as per usual. A positive change, probably due to the capital controls, is that more businesses now accept credit cards.
Is there a climbing festival this year?

Yes. To our knowledge, the municipality is planning a climbing festival in Kalymnos between Oct 7th-Oct 9th, 2016. That's all we know; if more info becomes available, we will share it here.

If you have anything to add or other questions to ask, please do so in the comments section below.


LIST OF REBOLTED ROUTES | KALYMNOS 2015/2016
*Printable version*
PALACE
Kartoffelacrep 5b
Lampen Laden 6a
Leda 7a
Saia 6b+
Ifaistos 7a
Totta 7a+
Silvia (Melis) 6b
Room 13 7b
The Roof is on Fire 7a
Ballroom 5c
Mia's Place 6a+
King  Suite 7a+
Balcony 6c
BELGIAN CHOCOLATES
Ewa 6b
Dodo 6a+
Rock Shrimps 6a+
Sharp Things 5c
Strange Tree 5c
Red Spot 5c
Beaver's Bolts 5a
Faron 5c
Jolli 5b+
ARHI
Ziwi 6a
Ercole 6a
Centauro 5c+
Pegaso 5b
Teseo 5b+
Black Snake       
Argonauti 5b+
Argonauti ext 6a
Scacco 5c
Pares 6a
Deimos 6a+
Phobos 6c
Small Fish 
Caronte 4c+
Arianna 5a+
Optassia  
Rocos Di Cantalos 7c
Rocos Di Cantalos ext 8a+
Orgasme Mineral 7b+
Orgasme Mineral ext 7c+
Kalymnostrobe 8a
Kalymnostrobe ext 8b
Takopoulos 8a
Giorgio de la jungle 7c
Giorgio de la jungle ext 9a
Mammifere Vibes 8a+
Mammifere Vibes ext 9a
SEA BREEZE
Melomakaronas 6c
Plastic Surgery Disaster 7b
Art in the Air 7a
Vromikos 6c
Âoulderhoelle 6b+
Hazouli 6b
Hazouli ext 6c
Me Ponai 6c
Rockout 6c
Loubis' Angels 6b
Brave a New world 5c+
Divine Comédie 7a
DOLPHIN BAY
Salted Joint 7a+
Too Fat for Tufas 6a
Roufos 6a
Lavraki 5b
Smineri 5b
Kavouras 6a+
Kalymnian Lightning 6b+
Barbouni 6b+
Blooming 5b+
Iris Production 5b+
Flipper 5c
Palamida 5c+
Koutsoumoura 5c+
Tsipoura 5c
NORTH CAPE
To Proto Moro Mou 5c+
Seal 5c
Hantch 7a+
Reize 7a
Polar Star 6b
Nordic Walking 6a
North Light 6a
ODYSSEY
Marci Marc 7c+
Nadir 8b+
Amphora 7b
Sirene 7c
Inti Raymi 7b+
Sardonique 8a
Inti Watana 8b
Boom Boom 7c+
Los Revolucionarios 9a
Gora Guta Gutarak 8c+
Tupac Amaru 9b?
Pindaro 7c+
Los Kukos 8c
Morfeas 6b+
Morfeas Plus 7b+
Las Galinas 8a
Kulturistika 7b
Arugliopoulos 7c+
Nafsika Nafsika 6a+
Mon Amur 6a
Island Highway 6c+
Il Gigante e la Bambina 6c+
OLYMPIC WALL
La Bite Ne Fait Pas le Moine 6c
Le Bite Ne Fait Pas le Moine Ext 7a+
Kalynette 6b+
Saphir 6c
Sextoys 7a
Telendos 7a+
Kalyty 7b
Yamas 8a+
Hogo Fogo 7c
Hellas Rodeo 8a
Limonadovy 6b+
Defence d'y Voir 5c+
Erotik Market 6b+
Il Movimiento Sexi 6a
Toutouille 6b
SPARTAN WALL
Organizer 4b
Mega Burger 4c
Strange Little Girl 4c
Insomnia 5b+
Dimarhos 5a
Tigryonak 5b
Dulces Suenos 5a
Poupakis 4c
Yo Yo 5c
Hibiscus Market Part 1 6a
Ojos de Brujo 8a
Hibiscus Market 8b+
Titantrope 8c+
Guest Dj 9a+?
The Beginning at the End 7b+
Harlem Nights 7b+
Spartakiada 6c+
Spartakiada ext 7b+
Kurva 7a
Kurva ext 7b
Probleme Mineur 6b
AFTERNOON
Bye Bye Doc 6c
Jana's Kitchen 6b
Asklipios 6c
Panakia 6c
My Long Holiday 6c
GRANDE GROTTA
Monahiki Elia 6a+
Taz 6c
KalyPige 6c+
Priapos 7c
Super Priapos 8a
Trela 7a
Elefantenhimmel Part 1 5a
Elefantenhimmel 7a
Aegialis 7c
Zawinul Syndicate 7c+
Afrodite 7a+
DNA 7a
Ivi 7a+
PANORAMA
Rastapopoulos 6c+
Aegean Sea 7a+
Cigarillo 7a
Where is my Mind? 7b
Panselinos 6b+
Carpe Diem 6b
Carpe Noctem 6c+
Commandante Marcos 7a
Joggel + Toggel 6c+
Tuefeli 7b+
Chnosi Family 7a
Boomerang 6c+
Mecki Messer 7a+
SteinPilz 7a
Neptun kl 6c
Neptun kl ext 7c
Michis Hohlenfleber 4c
Bye Bye Felix 7a
Reptil 7a+
Mind Boggle 7b+
Gwundernasse 6c
Russel Paradies 7a+
Kopakabana 7b+
Kopakabana Ext 8a+
Manou Tchao 7c
The Call of the Ktulu 7b+
Joggel + Toggel Ext 1 7b+
Joggel + Toggel Ext 2 8a+
Super Carpe Diem 7b+
Papacostopoulos 8a
IVORY TOWER
Siderwinder 6c+
Sunrise (part 1) 7a
Kafe (part 1) 7a+
Anaphylactic Shock 7c+
Lactic Shock 7c
Poker Face 5a
Arthur 5c
Deletime 5b
The Silent Way 7c+
Dream Line 7b
Dream Line ext 7c
Ivory Tower 8a
Ultimo Bucco 6b+
Fuga del Guy 6c
IANNIS
Sevasti 7b
Themelina 7b+
Super Themelina 7c+
Racomelo 8b
Tufa King Pumped 7b+
POETS
Poet's Corner 5c
Ione 7a+
Ibria 6b+
Anacreonte 6a
Alcman 6c
Licimnio 6c
Alceo 6c
Pindaro 5a
Sapfo 6a+
O' Brothers 6b+
Mustass 6a
Saxonia 6a
Omero 7a
Styx 6a+
Iris 6b+
Damocles 6a+
Kavafis 6b+
Minos 7a
TELENDOS
IROX
Popi 5b
Maria 5a+
Iason 5b
Niki 5a
Kiriaki 5a
Evoula 4c
Evdokia 5c
Sevasti 4b
Memories of Dorothy 5a
Mo An 5a
Anastasia 5a+
Evangelia 5b
Menesis 6b+
Dionesis 6b+
Ingleton 6b+
White Rose 6a
Yorkshire Pudding 6c
Hollenfieber 7a+
Swordfish 6b+
Solefish 6a+
Xymox 6c
Magma 6c
More Than Mode 7b
The Magic Circle 6a+
Kyprios Angel 7a+
Helvetix 7a
Sally's Boat Trip 3c
Primerov 3c
Captain Jack 4a
Pantelis Sea Jump 5b+
Cuobo 7c
Aphrodite 8c+
Irox 8a+
Marmornei 7c+
PESCATORE
Mafalda 6b
Issili 6c
Plaka 6c
Tequischiapan 7a
OTR 7a
Zorba's Restaurant 7a+
Padelis 7b+
Aboneros el Chilli 7b
Y Viva Pancho Villa! 7a
Queen Potha 8a+
Aegena 8a
Il Y Avait de Laure Dans Ma Vie 8c+ ?
Amores Perros 7c+
Zoidis 8a
Scooter Fun 8a?
Miltiadis 7b
LAMBDA
Stafel 6b
Lambda 6a+
Lambda Capital 7a+
Meiggeren 6a
Progressive Rock Part 1 6a
Progressive Rock Part 2 6c
Progressive Rock Part 3 7b
Dom 6b
Fiirhelzer 6b
Arbzug 6b+
Gerwitscht 6c
Chardonnay 7a+
El Alamein 6c
Marinelli 4b
Hotel Simi Basement 4c
Hotel Simi 6b+
Schwjieschwanzerrected 6b+
Flauschi 6b+
Rolfi 6b
Hermetje 6b
TELENDOS SOUTH FACE
Wild Country 6a+
Wings for Life 6a
______
This entry was posted on Monday, April 4th, 2016 at 22:00 and is filed under Kalymnos news. You can follow any responses to this entry through the RSS 2.0 feed. You can skip to the end and leave a response. Pinging is currently not allowed.
17 Responses to "List of Rebolted Routes and Answers to Frequently Asked Questions"
« Older Comments
« Older Comments