Meet Scottish climber and coach Robbie Phillips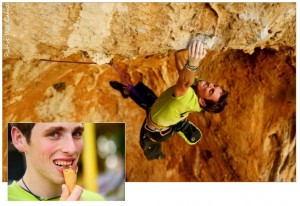 You know those young people you sometimes meet who seem to burst with potential? So that later, when you find out they're doing really well for themselves, you're just not surprised? Well, for us Robbie Phillips is one of those people. On his first visit to Kalymnos he was a 16-year old vacationing with his parents. He had only started climbing the year before, but by the end of that vacation he'd sent several Kalymnos classics and made the transition from gym to cliff look as easy as falling off a log. Six years and four visits later he's still the smiling Robbie we remember, though now he's competing internationally, ticking off 8cs, and making a name as a climbing coach. We chatted with him after his last visit to Kalymnos, while we also asked him to comment on and suggest grades for some hard new routes he tried in Kalymnos. Thanks Robbie!
Profile
Name: Robbie Phillips
Date of birth: 27/02/1990
Height: 6ft /1.83 m
Weight: 75kg
Started climbing in: 2005
Works as: Professional Climbing Coach/Journalist
Sponsored by: EDELRID, Evolv
Best redpoint: 8c
Best onsight: 8a+
Scorecard at 8a.nu: here
Web: here
Q & A
How did you start climbing?
I started climbing through my school club.
Which climbers have made a lasting impression on you and why?
Mainly it is the inspiring people that brought me up as a climber, i.e. my climbing coaches and those that pushed their personal performance at climbing back in Scotland.
The best thing about your climbing life?
I love training hard year round, travelling to beautiful places and climbing to the best of my ability. I get to climb every day with my job and it allows me to travel to the best climbing destinations in the world such as Kalymnos from year to year.
A memorable story from your climbing life?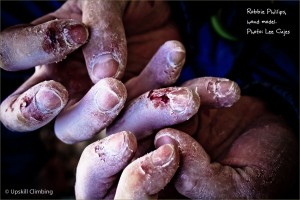 There really are too many, but one that does stand out in Kalymnos was my ascent of "Aegialis" 7c. I put off climbing it for 5 years because I wanted to onsight it. Even after I had onsighted 8a's, I still was scared to try this climb since it had become a major contributor to me wanting to push my personal performance in climbing since I first saw it in the Grande Grotta. On the last day of my climbing trip in 2010, the last route of the trip and as the last hour of sun began to set, I tied into the rope and climbed this epic line in the basking orange glow. It was a beautiful moment in my climbing career, it was then that I knew that climbing truly was my life.
Other interests (besides climbing)?
Xbox : P
What's next – short and long term?
I want to continue living my perfect lifestyle, train harder and go further. In the short term (next year) I'd like to consolidate climbing 8c and perhaps push into 8c+ by the end of the year. In the long run (5+ years) I want to consolidate climbing 9a consistently and hit 9a+/b one day. Then of course I would love to take what I have learned into the mountains and do some truly amazing hard multi-pitch and alpine routes.
Any particular 8cs and above you have in mind as your next projects in Kalymnos?
Yes – When I come back to Kalymnos this year I want to climb "Inshallah" 8c+ (at North Cape) and possibly "Gura Gora Gurak Attack" 8c+ at Odyssey sector.
(note: the latter is officially known as Gora Guta Gutarak, but we like "Gurak Attack" better :D)
When did you first visit Kalymnos?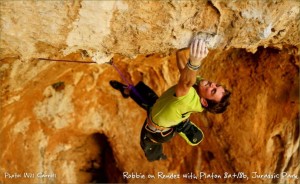 When I was 16. I travelled with my parents and was lucky enough to bump into Aris. He took me climbing when I had no one else to go with and introduced me to the beauty of the island.
What did you think during that first visit?
Kalymnos is the best place on earth!
How many times have you visited Kalymnos since?
Four times and I'll be back next year too.
What –if anything—differentiates Kalymnos from other climbing destinations?
Kalymnos is more than simply another climbing destination, it's the whole package of having sun, sand, sea and rock as well as a beautiful culture of people living there.
As a climbing destination, where does Kalymnos get it right?
See above.
And where does it go wrong? Any suggestions for improvement?
It doesn't go wrong too much, perhaps there needs to be more in the upper end of the grade spectrum, i.e. f8b-f9a, but perhaps I'm just being selfish : P
Most recently you stayed in Kalymnos for almost two months. What were the highlights of that trip?
I climbed nearly every 8b and 8b+ in the main sectors. It was a great confidence boost for me and since then I have continued to perform at this level across many different crags in different styles.
Well done! Could you also post your comments and grade suggestions for these routes here, especially for the relatively new routes at sector Kalydna, where grades are not solid yet?
"Trous Dans L'air" – An amazing route and beautiful to climb. It was graded 8c once, it's probably a low end 8b+?
"Fake Friends" – I personally thought this was similar in grade to "Trous Dans L'air" but even better in my opinion!
"Keep Going" – Something totally different to anything I've climbed in Kalymnos! Definitely not 8c, maybe 8a+ or 8b? Stunning route with a different crux every 5m 😀
Tell us about your climbing camps on Kalymnos. What made you choose it as the venue?
As I said before, Kalymnos has everything for the average climber who wants more than just a great climbing experience. You can truly give anyone an amazing holiday in Kalymnos.
As a coach, how do you help students become better climbers over the course of a climbing camp?
I start off learning their styles, looking at their weaknesses and strengths. I then discuss with them ways in which they can improve and I begin teaching them new techniques and exercises in which to strengthen their performance on the wall. I like to take people all over the island of Kalymnos, giving them a varied and enjoyable experience, where every day is a new adventure.
Most memorable routes you have climbed on Kalymnos (regardless of grade)?
It has to be "Gaia" (8b). At the time it was really hard for me and took more out of me than any other route on the island. It has forever latched a place in my heart. Probably as well as this, the route to the right, "Polifemo 7c", challenged me in the same way, only years before, this has had a lasting impression on me as well. Amazingly, the route to the right again (Alfredo- Alfredo 7b+) I climbed with Aris on my first trip to Kalymnos, this was my first big challenge in climbing.
Some climbers may be worried about visiting Kalymnos due to the ongoing economic crisis in Greece. How did you experience Kalymnos this year?
In all honesty, the crisis wasn't noticeable to me. The island was as I have remembered it since I was 16, perfect!
When will we see you in Kalymnos again?
Next October… PSYCHED!!!
This entry was posted on Monday, April 2nd, 2012 at 22:28 and is filed under Kalymnos news. You can follow any responses to this entry through the RSS 2.0 feed. You can skip to the end and leave a response. Pinging is currently not allowed.