More footage of Adam Ondra climbing @ Kalymnos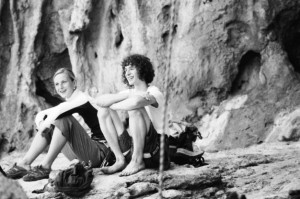 Here's more Adam Ondra to inspire us mortals. This 10-min feature filmed by 9b during the 2009 Kalymnos climbing festival is worth watching for the first three minutes alone: a black-and-white Adam goes through a fantastic sequence of moves on Los Revolucionarios 9a in silence; but then he reaches the crux, and then… Well, then comes Kalymnos as we know it: music, full-color footage of the beach, Telendos in the background, the port and fishermen of Pothia, and a mini-interview with Aris about the development of Kalymnos crags. All the while Adam and his sister Christine scout around for new climbs, Adam casually onsights Gaia 8b, then Spartan Wall 8b… and as we are left wondering how in the world he managed to conjure up holds on that bald wall, he opines that Spartan Wall 'could be 8a+ but… Kalymnos standard, yes, it's 8b'.
(In the photo above, Adam and Christine resting between climbs at sector Odyssey)
This entry was posted on Thursday, September 30th, 2010 at 23:36 and is filed under Kalymnos news. You can follow any responses to this entry through the RSS 2.0 feed. You can skip to the end and leave a response. Pinging is currently not allowed.
3 Responses to "More footage of Adam Ondra climbing @ Kalymnos"