New routes by Mathieu Bouyoud at sector North Cape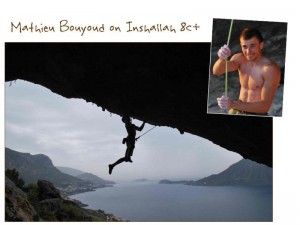 Mathieu Bouyoud, the 21-year old climber and college student from Chambéry, France, was in Kalymnos last month. Several of his days were spent at sector North Cape equipping and climbing new routes. But that's not all: he also redpointed the powerful Inshallah 8c+ (watch the video here), a line traversing along the roof of the first cave, and "he seemed very pleased. Nice guy" says our friend Carl Dawson, who met Mathieu at North Cape. Mathieu has kindly provided us with info and suggested grades for his new routes; he climbed all but one, since, according to him, climbing and equipping are inseparable ("equipping and then climbing a route is a lot more satisfying than the mere repetition of a climb"). He also says he loves the opportunity afforded by outdoor climbing to travel and get to know different people and cultures. We couldn't agree more!
Here's a list of the new routes at sector North Cape by Mathieu Bouyoud, with comments by Carl Dawson.
NORTH CAPE:
16a 'Marshmallow' 8a, 12m (immediately right of Inshallah)
NORTH CAPE RIGHT:
25a 'Le Mur d'Epicure' 7c 25m
25b 'Ahimsa' 7b+ 25m (with Hugo Meignan)
Carl's comment: The very obvious twin tufa line (and the headwall above) at the left side of the big overhanging recess. Looks like it will be a very major addition but the bolts look pretty spaced to me. Easy climbing maybe, but it's 'fresh' rock.
NORTH CAPE UPPER CAVE
34a 'Saglis' 8? 12m (open project)
34b 'Mudita' 7c+ 12m
Carl's comment: Two lines just left of Helios. Well-bolted. Short power routes.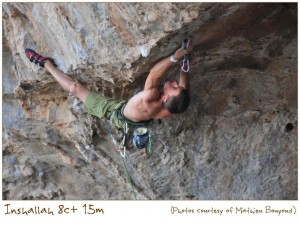 Many thanks, Mathieu, and we look forward to seeing you on Kalymnos again soon!
This entry was posted on Thursday, June 9th, 2011 at 22:57 and is filed under Kalymnos news, New Sectors. You can follow any responses to this entry through the RSS 2.0 feed. You can skip to the end and leave a response. Pinging is currently not allowed.
7 Responses to "New routes by Mathieu Bouyoud at sector North Cape"