New routes on Kalymnos by the Remy Brothers (2011)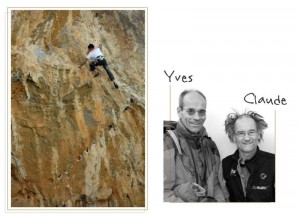 Claude and Yves Remy have made it their habit to spend several days on Kalymnos each year equipping new routes; you have surely climbed some of their routes, many of which are Kalymnos classics. In March / April this year they started two new sectors, Great Canyon and Big Shadow, and created new routes in existing sectors (Styx, Arginonta, Sea Breeze and North Cape). Below are the details of all new routes by the Remy brothers in their own words (slightly edited for clarity). As always, extra care is needed when climbing new routes until they are completely cleaned and free of loose rock!
KALYMNOS 2011: NEW ROUTES FROM CLAUDE AND YVES REMY
During 10 days of March-April 2011, we set up new routes at six sectors in Kalymnos. Two sectors are new, Great Canyon and Big Shadow, other good news: there are several nice easy routes.
Anyway take care with this information because some routes need traffic to be cleaned and to confirm or change the grade, but for the quality… it is up to you.
The easiest routes are usually very well-protected. For routes longer than 35 m take more than 15 quickdraws (QD), some Extensions go to 50 m and need 20 QD.
Routes are left to right.
Ext = Extension of the route.
B = Belay (Lower-off).
SECTOR STYX, the long cave (Emporios Portal?)
Inside this cave the rock looks broken, but surprise, it is… good. Well-protected routes. Shadow in the cave til the middle of the afternoon.
7a+ Circus overhang/holds, smooth rock then sharp, go out the cave, 17 bolts, 35 m
6b Ingo start a bit overhang then wall, 14 bolts, 25 m
6a+ No Exit steep wall/holds, 15 bolts, 35 m
6a+ Metro slab then steep wall, go out the roof of the cave (to remember the incredible ice route at Breitwang, CH) 17 bolts, 38 m
SECTOR GREAT CANYON (new sector between Arhi right and Sea breeze left side).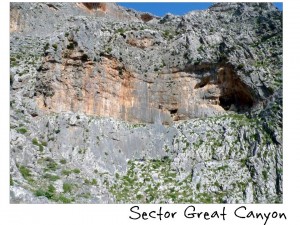 Approach: park as to go to Pocket Wall – Sea Breeze and follow the gorge to the entrance of the canyon, go up right, blue marks, to the foot of the grey slab, 8 – 10 minutes. Here are the routes 1 to 9. These routes start by an easy slab, cross a big ledge then go to a vertical wall. Most of the wall is steep, white/red on the left, grey in the middle and white/red on the right.
For routes 10 to 16, walk up on the right 1 min more, follow the ramp to the big ledge. Routes on the right are in overhang and in shadow most of the time. Often rock is sharp but most of the climbs are well protected.
6c Melomakaronas first route on the left, 6b with 2pa, slab, big ledge than wall, 35 m
7a Mystic Land same start with the next than from the big ledge go left, one crux, 35 m
7b Plastic Surgery Disaster start with Mystic, at the big ledge go up right, 32 m
7a Art in the Air slab, ledge then wall, 34 m
6c Vromikos slab, ledge then wall, 33 m
6b+ Boulderhoelle slab, ledge then wall, 33 m
6b Xazouli slab, ledge then wall, left of the cave, 32 m
6c Xazouli Ext after the belay, wall then slab with friction crux, 38 m
6c Me Ponaï slab, ledge then wall, right of the cave, 32 m, learn greek before this climb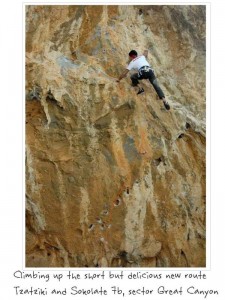 From the big ledge
10 6c Rock Out wall to the roof, 20 m
11 6b Loubis's Angels wall to the roof, 20 m, good cracks-holds, try in Loubis… it is harder
12 5c+ Brave a New World after a slab & short wall/crux, it is a traverse, very well-protected, 16 QD
The next routes are short but very powerful
13 7a Divine Comedie a short roof with very good holds, belay to Brave
14 7a Sex Pistols a short overhang with very good holds, not rotten as Johnny…
15 7b Tzatziki kai Sokolate short overhang with good "killing" holds, try onsight, B to Sex
16 7b+ Beta Lambda overhang with desperate short sharp crux, B to Sex pistols
SECTOR GREY ZONE left of Pocket Wall
6a Fasolada slab then overhang above the small cave, to remember a nice soup
(admin's note: Fasoláda is a hearty Greek bean soup)
6a In Dubio slab then a nice overhang and holds, then a slab again
5b+ Falakro variation of In Dubio, avoid the overhang by the right
Right of Strats for Heroes
6c Saphirniac wall, pockets, cracks, overhang, B above the great roof, 38 m
Right of Kill the Cock
6a Utopia slab, wall, crack, pockets, 20 m.
6c Utopia Ext wall, try onsight, 36 m
SECTOR ARGINONTA
30 m left of Studio Fatolitis (subsector Holiday) there is a grey slab full up good holds, routes are very well protected.
4c Bolt-Obsession slab, flakes, cracks, with a wall and "hard finish"…
5a BB crux at the start, thanks to Bernard Bolliger, 20 m
4a Takis rare: the easiest climb is the most beautiful!
4b No Blabla Do It slab, corner and holds…
4c Mammut Step big steps and big holds
Right of Bouboulina (Infrared Wall)
6b Koubinos crux at the start then technical climb, also dedicated to a hero, but
he is not the husband of Bouboulina (admin's note: Bouboulina was a famous 19th century heroine in the Greek revolution)
Right of Pornokini
6c Test Under Stress crux very well-protected in the overhang
Right of No Sleep
6c Romance of Stone overhang with tufas and big holds, then wall, 28 m
Extension of Avri
7a Kolhinet Kafhouille don't clip the B of Avri but the bolt on the right, crux… and keep going
SECTOR BIG SHADOW
This new sector is the "big wall" above the road between Kasteli – Arginonta, exposure north-east, there is a bit of sun in the morning.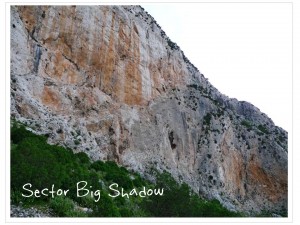 Approach: soon after the big turn of Kasteli/Dolphin Bay sectors, on the right of the road there is a small concrete building, park. Follow the 3 first electric poles and the red marks-cairns, then straight up the left side of the vague ridge, cross a small rock band, then follow small ledges of the left side to the base of Big Shadow, 40 minutes.
Some routes start by a short scrambling section. All routes have been made from the bottom.
We will come back to make more routes and extensions, so thanks to wait before making more routes.
6a+ Metralos wall, holds, 12 bolts, 30 m
6a+ Cacou slab, wall, holds, 10 bolts, 25 m
6a Vicking steep slab, 12 bolts, 25 m
6b Directos wall then slab, B to Grim, 13 bolts, 30 m
6b Grim line of great holds in the center of the wall, 13 bolts, 30 m
6c+ Grim Ext overhang with holds again, 20 bolts, 50 m
7a+ Cosi wall/overhang with small holds, 15 bolts, 30 m
7b Taupe the Rop wall/overhang with small holds, 13 bolts, 28 m
Right, in the orange cave
7a Ratten overhang, tufas, 10 bolts, 20 m
SECTOR NORTH CAPE
Right of Hantsch
7a Reize wall and overhang, 14 bolts, 25 m
Right of Scanner
6a+ Leone super steep slab, 14 bolts, 30 m
CORRECTIONS OF ROUTES 2010
– Sector Skalia Pillar
Koutouzis Ext 6b+ is 7a
– Sector Arginonta (Infrared Wall)
Bouboulina 6a+ and Bouboulina Ext is only one pitch, to the top, and it is 6b
Hard Primal 7a is 6c+
– Sector Dolphin Bay
Bang Bang 5b is 4c ***
– Sector Olympic Wall
Laetan 7a is 6c
Biloute 7a 25 m is 7a+ 30 m
– Sector Stankill
Zack 6c * is 7a **
Plagnolis 6c+ is 7a
Zack and Lyrix climb in one go give a long great 45 m 7b***, 20 QD includes 3 long ones
– Sector Kalydna
Extra 6a+ is 6b
New: Kaly Câlins Extension to Life Style 6c+, 35 m
– Sector North Cape
Seferis 6b+ is 6c **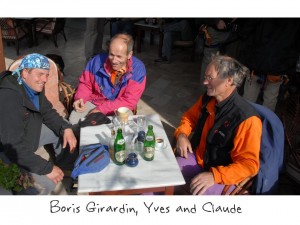 A very warm and big thanks for the great help to:
Stefanos & Anna Gerakios (rooms/scooters), Kantouni-Kalymnos; Glaros snack bar, Massouri-Kalymnos, Steve and Sue; Stelios & Maria Restaurant, Massouri-Kalymnos; Climbers' Nest sports shop, Armeos-Kalymnos, Birgit Möller; Wild Sports shop, Massouri-Kalymnos, Sophia Lagoudi; Municipal Tourist Organisation of Kalymnos, George Hatzismalis; Aris Theodoropoulos, author of Kalymnos rock climbing guide book; and Mammut Equipment, Switzerland, Bernard Bollinger.
Claude and Yves Remy
This entry was posted on Friday, May 6th, 2011 at 00:32 and is filed under Kalymnos news, New Sectors. You can follow any responses to this entry through the RSS 2.0 feed. You can skip to the end and leave a response. Pinging is currently not allowed.
2 Responses to "New routes on Kalymnos by the Remy Brothers (2011)"