Q&A with Swiss guides Urs Odermatt & Peter Keller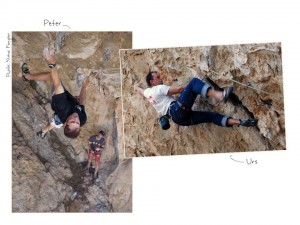 Swiss mountain guides Urs Odermatt and Peter Keller have been to Kalymnos so many times they've lost count. But mostly their names are connected to Telendos. Telendians love Urs and Peter, and how could they not? Their drill works just as hard as their charm: Wings for Life, Wild Country, sectors Irox and Glaros are some of their Telendos classics. And now Lambda, a sector Urs Odermatt and Markus Leippold just finished, where some of the routes claim to be amongst the best of their grade on the island. Meet Urs and Peter through our Q&A from last month; for more on sector Lambda, including routes and suggested grades, see this post.
Profile
Name
Urs Odermatt | Peter Keller
_
Date of birth
Urs: 11.7.1974 | Peter: 1.2.1972
_
Height
Urs: Too small for my weight | Peter: 1.83cm
_
Weight
Urs: Depends if I measure before or after Kalymnos | Peter: 78kg
_
Started climbing in:
Urs: 1980, together with my father. Arete de Raimeux, still a classic | Peter: 1986
_
Works as:
Urs: Mountain Guide and overhead Manager and CEO by Mountain Consulting AG, which means, I own a very small company where I'm responsible for everything. | Peter: Mountain Guide and owner of a small climbing wall manufactory.
_
Sponsored by:
Urs: Every drill trip to Kalymnos is sponsored by somebody else. This year, 2012, it is the fabulous Hotel Simi in Zermatt, who just do it because they like the atmosphere in Kalymnos | Peter: My girlfriend. She sponsors me with time.
_
Best redpoint:
Urs: 'Diana Day' 8b in Switzerland, my fingers just fit perfect for the cruxcrack. | Peter: 'Omertà' 8c, 'Caliente' 8c, both Switzerland.
_
Best onsight:
Urs: 7c, but I dont remember the name of the route | Peter: I climbed 3 guidebook 8a+ on sight. The one in Croatia was more easy 8a than 8a+. The one in Spain was, more likely than not, mixed in the topo, and the one in Kalymnos, Super Priapos, I did only 54.5 not 55m. Is it possible by rebolting to put down the anchor a bit? 😀
_
Web:
Urs: www.bergsteigen.ch | Peter: attactive
Q & A
How did you start climbing?
Urs: With my father, a true alpinist since more than 50 years.
Peter: I started with a friend from school. From his father we got one rope one harness and two karabiners. Of course we started with multi pitch. The leader always had the harness.
Which climbers have made a lasting impression on you and why?
Urs: Peter Keller. He shows that it is possible to climb very hard routes, even without a sixpack.
Peter: Urs Odermatt. Because he makes me feel light.
The best thing about your climbing life?
Urs: That I'm still alive. Can't believe it.
Peter: Climbing is lifestyle. No matter if you are experienced or not you can be on your own limit. And the worst thing about climbing life? The interest of a person grows with the number he or she climbs.
A memorable story from your climbing life?
Urs: Together with Peter Keller we climbed a new mixed route in winter in the Alps. After a belay broke, we were both hanging together with the haulbag on a single piton. It was Peter's first experience in a north face and he thought that's normal. I thought, if this beginner is not impressed about that, I will also not show my fear. After a bivouac we reached the top and started to realize how much luck we had.
Peter: When Urs and I were younger we thought that the girls like real hard Alpinists. So let's go to the Eiger North Face and our dreams come true. We wanted to open a new route in the left part of the wall. Our first try was surely the worst attack after the disaster from Hannibal with the Elephants. Early in the morning we started, with lot of material and sponsor logos on our equipment. After hours of fighting with deep snow we decided to make our first camp. The next morning we realized that we were maybe 100m higher than the Eigertrail, a trail for the tourist with sneakers. My next Alpinist experience was the south face of Telendos (it is not true but sounds nice.)

Other interests (besides climbing)?
Urs
: That's maybe not the place……
Peter
: my family, skiing and football.
What's next – short and long term?
Urs: Short term, my drill trip to Kalymnos end of April. Long term, my Kalymnos climbing trip in August/September.
Peter: To go climbing after finishing this interview. To go to Scotland with my son Tim and my girlfriend Meike.
When did you first visit Kalymnos?
Urs
: Don't really remember, maybe 7 years ago? That was also the end of my alpine career…
Peter
: 2004 or 2005?
What did you think during that first visit?
Urs: It's much better to work as a Mountain Guide in Kalymnos than in Chamonix.
Peter: Uahhh puahh yeahhh, let's move this island to the lake of Zurich!
How many times have you visited Kalymnos since? Any funny stories from those visits?
Urs: Maybe 15 times? There is always a funny story, but I will never forget that we almost didn't find the way back to Telendos by boat after we had a drink or two…
Peter: I can't remember how many times we visit Kalymnos. Maybe 20-30 weeks. All the weeks were very funny. Somehow Yannis, the ferryman who helps us a lot in every situation, was always involved. The story where Yannis crashed with his boat into the jetty, told us and our clients laughing that he has lost his propeller, is unforgettable.
What -if anything-differentiates Kalymnos from other climbing destinations?
Urs: It's much less rain than in the Peak District, for example.
Peter: The combination of fantastic climbing, beautiful beaches and friendly people makes Kalymnos unique.
As a climbing destination, where does Kalymnos get it right?
Urs: Good protection in all routes seems important for a place like this.
Peter: Kalymnos brings the climbing tourist in a mood where they are easy and friendly.
And where does it go wrong? Any suggestions for improvement?
Urs: I'm worrying about the rebolting for the future. Big work is waiting, and it's important!
Peter: I believe that Kalymnos must start now a rebolting strategy. Especially for Super Priapos.
Most memorable routes you have climbed on Kalymnos (regardless of grade)?
Urs: 'Breakfast on Pluto' in Glaros. A big jump to the jug, the jug breaks and my head was bleeding. But the route is still brilliant….
Peter: In Telendos we bolted a lot of routes. One is 'Glaros'. In the blank steep overhanging wall, the line follows the weakness through the roof. Normally a route in a wall like this with poor structures does not work. One pocket less and the route is impossible. To bolt and climb Glaros was very satisfying.
Some climbers may be worried about visiting Kalymnos due to the ongoing economic crisis in Greece. How did you experience Kalymnos this year? Was your stay in any way affected by the crisis compared to previous visits?
Urs: No politics in a climbing interview. But at least, the climber will not feel the crisis, but perhaps the locals feel the tourists.
Peter: I don't think the climbers will feel the economic crisis in Kalymnos.
When will we see you in Kalymnos again?
Urs: 20 of April, I will be there…(note: and see him we did!)
Peter: August-September.
This entry was posted on Tuesday, May 29th, 2012 at 20:46 and is filed under Kalymnos news. You can follow any responses to this entry through the RSS 2.0 feed. You can skip to the end and leave a response. Pinging is currently not allowed.
3 Responses to "Q&A with Swiss guides Urs Odermatt & Peter Keller"