Palionisos Bay, a new climbing sector in Kalymnos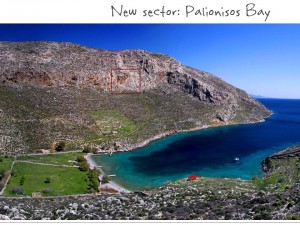 In our previous post we made special mention to Palionisos and the improvements made there this year. We didn't mention though that Palionisos also features a new climbing sector overlooking the beach called Palionisos Bay. If you haven't been to Palionisos yet, it's a small hamlet with just a few small farmhouses on the northeast coast of Kalymnos. A paved road goes all the way to Palionisos and a dirt road continues down to the quaint beach (pictured left in a photo by Nikolas Smalios), which has been cleaned and features a handful of tavernas. The seawater here is fantastic: emerald green and usually very calm, even on a windy day. The drive from Masouri to Palionisos is approximately 20 minutes (slightly longer on a scooter), but alternatively you could hire a sea taxi and explore the undeveloped coast of Kalymnos while you're at it.
At the moment there are 11 routes at sector Palionisos Bay. Climbing here is best avoided on very hot days, as there is shade only in the early morning. Try climbing here on cool spring and fall days or on mild winter days. Routes #1 and #4—#10 were equipped by the 'Drilling Gang' (Angie Hafner, Hans Weniger and Christian Schmidt), while routes #2, 3 and 4 were equipped by Bernd & Christine Arnold and the Drilling Gang. The equippers would like to thank Sue and Steve McDonnell of Glaros Bar and George Hatzismalis of the Municipality of Kalymnos for their help.
Routes | Palionisos Bay
1. Iltis, 6b 25m ***
2. Iltis Extension, 7a 15m ***
3. Baden mit und ohne, 7a 30m ***
4. Novembersonne, 7b 30m ***
5. 67, 6b+ 30m ***
6. Fingerpull, 6a+ 30m ***
7. British Pubbull 5c+ 30m ***
8. No Sprit, No Station, 5c 27m ***
9. Corax, 5b 30m ***
10. Colchicum autumnale 5a 30m **
11. TakTakTak 4b 30m **
Approach | Palionisos Bay
Take the road going from Masouri to Emporios. At the village of Skalia, turn off towards Palionisos. Go to the end of the road and follow the dirt road, passing taverna 'Nikolas'. Before the beach, turn left to taverna 'Ilias' and park at the taverna's parking lot at the end of the road. From there continue along a fence; then scramble up the hill to the obvious crag with the orange roof. Total walking time: about 5-10 min.
All routes have been cleaned but – as is usually the case with new sectors – there is always the possibility of loose rock!
This entry was posted on Thursday, September 15th, 2011 at 22:09 and is filed under Kalymnos news, New Sectors. You can follow any responses to this entry through the RSS 2.0 feed. You can skip to the end and leave a response. Pinging is currently not allowed.
2 Responses to "Palionisos Bay, a new climbing sector in Kalymnos"