Saint Photis, a sector 'reborn' in Kalymnos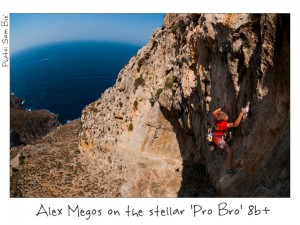 Saint Photis, a crag next to a quaint whitewashed chapel by the same name, was originally equipped by the Remy Brothers in 2002. The setting of both crag and chapel is beautiful and peaceful, on a secluded balcony overlooking the sea in the area of Kandouni beach. The crag features two distinct sections: Chapel Wall, just to the right of the chapel, and Upper Cave and Upper Wall in the background, above and to the right. Sector Saint Photis is often energized by a cool sea breeze, and after climbing you can relax in the chapel's courtyard and use water from the well to make coffee.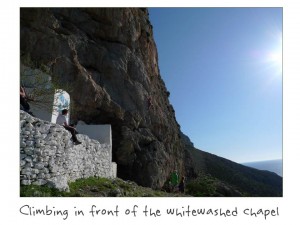 Despite its idyllic location, Saint Photis never became a popular climbing sector in Kalymnos. The longer approach and / or the relatively spaced bolts may have been the cause; in any case, Saint Photis remained a fairly isolated place enjoyed only by a handful of climbers, hikers and chapel visitors.
Nevertheless, the 2010 guidebook states that 'in the upper section there is a big cave with stalactites and only two routes at the moment; however, there's room for a lot more hard, top-quality routes'. Then Simon Montmory, a French climber / trainer and permanent Kalymnos resident, rose to the occasion: he bolted nearly 20 hard routes in Saint Photis, automatically elevating this charismatic crag to new heights.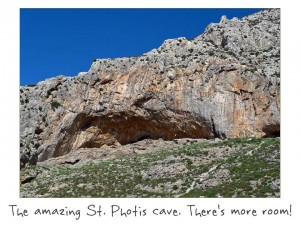 Perhaps as importantly, Simon and Aris Theodoropoulos voluntarily rebolted all of the preexisting routes at Saint Photis; the old routes were equipped with FIXE bolts from 2002 and were quite dangerous. To quote Dimitrios Karalis, member of the Greek Federation of Mountaineering & Climbing in the UIAA's Safety Commission: 'As far as I remember, some series of FIXE bolts (2000-2003) were made of AISI-303 stainless steel which is not suitable for marine environments. They contain sulfur and thus corrode very fast. These bolts have to be replaced the soonest possible. The rest of Kalymnos, which is equipped with better grades of stainless steel bolts (RAUMER and PETZL), is OK. Inspection every 2-3 years is fully suggested.'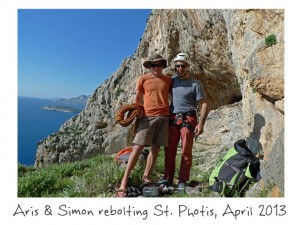 All new bolts and lower-offs used in the rebolting of Saint Photis were provided by the Climb Kalymnos bolt supply. Easier routes were made safer and more climber-friendly by adding extra bolts.
There is still a lot of potential for new routing at Saint Photis. But already, the combination of the rebolted older routes and the new hard lines makes for a complete, rejuvenated sector. Could it be the new 'Secret Garden' of Kalymnos?
New routes at sector Saint Photis are listed below. The hardest routes were graded by Alexander Megos, who onsighted most of them (and climbed the rest on his second attempt) last fall.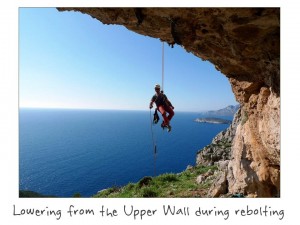 Which means they may even be slightly harder, since he's the climber with the best onsight in the world at the moment (9a)!
NEW ROUTES AT SAINT PHOTIS
6.1 Anarrihisi 6c+ 40m
6.2 To doraki 7? 25m
6.3 Want a Beautifull Life ♪ 8a 25m
6.4 Unfinished Project ? 35m
6.5 Beginner Sis ♪ 8b 20m
6.6 Pro Bro (Beginner Sis Ext) ♪ 8b+ 35m
6.7 Les Mains Oranges ♪ 8b+ 35m
8.1 Sans Le Figuier (No remorse ext) 8a+ 30m
8.2 Bye Bulli ♪ 8a+ 30m
8.3 Kardamo 7c+ 30m
9.1 Eftace 7c 25m
12.1 Cartier ext 6c 30m
13.1 Bim Bam Boom 8a+
13.2 Ruhetag 8b+
13.3 Project ? 7?
13.4 Howl lala 7b
13.5 Boulderaki 7a+
14.1 Oups 6c+
17.1 The Dreamer 7? 35m
For the 17 older (now rebolted) routes at Saint Photis, please refer to page 271 of the 2010 Kalymnos guidebook.
This entry was posted on Wednesday, April 17th, 2013 at 07:03 and is filed under Kalymnos news, New Sectors. You can follow any responses to this entry through the RSS 2.0 feed. You can skip to the end and leave a response. Pinging is currently not allowed.
2 Responses to "Saint Photis, a sector 'reborn' in Kalymnos"