Secret Garden, a new climbing sector in Kalymnos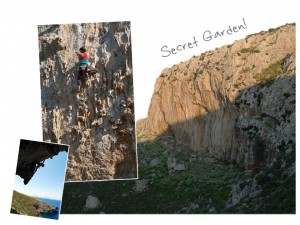 Perhaps you've heard of Secret Garden – an important recent addition to Kalymnos climbing, already widely considered as one of the major crags on the island. With stalactites growing horizontally out of the red, slightly overhanging cliff face, it's a cross between Odyssey and Ghost Kitchen. The climbing at Secret Garden is exceptional, with a mixture of tufa jugs and single pipes and with plenty of opportunities for knee bars and sit-down rests. Secret Garden is in a remote and wild area on the north coast of the island; it is very close to the sea and it overlooks Leros Island, the islets of Pitta, Kalolimnos and Imia, and Turkey's east coast. The word about this phenomenal new crag has steadily gotten round, and on any given day during the NF Kalymnos climbing festival as many as 40 climbers were there.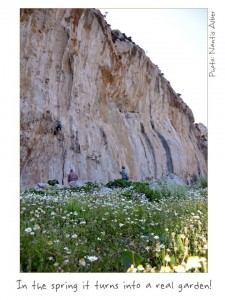 The main equippers Aris Theodoropoulos, Claude Idoux, Luca Salsotto, Simon Montmory, and George Kopalides started to put up routes in November 2010. At the moment, Secret Garden features 32 routes and the bolting continues (approximately 15 more routes are in the works: easier on the left, harder on the right). So if you happen to be there when the drills are working, please stay well out of range for your own safety and to allow them to work.
The existing routes at Secret Garden have already been climbed quite a bit, so they are relatively free of sharp and loose bits; however, as always, wear a helmet and don't stand below a person climbing as loose bits may still come off. Also, please don't feed the goats! They will stop at nothing and won't hesitate to steal food straight from your bags. Don't encourage them.
Last but not least: Pick up after yourself! Bring a bag to collect poop, papers, wrappers etc. PLEASE!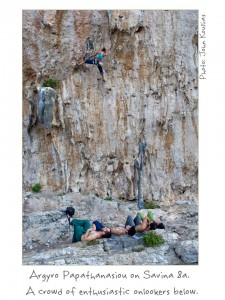 Sun: One of Secret Garden's greatest assets is that the cliff is in the shade most of the day: in the spring and summer the sun comes at 18.00; in fall and winter there is shade all day.
Exposure: Northern
Approach: Go to Skalia village and take the road over the col toward Palionisos (as for sectors Sikati and The Beach). Drive past the parking spot for Sikati and continue down the winding road; park as for The Beach sector (where the paved road intersects a short dirt road on the left leading to a small clearing). Walk down the dirt road to the clearing and continue NE to the col. The path is clearly visible and marked with cairns and blue paint. Go over the col, then down and rightwards into a small ravine. Don't worry if you can't see the cliffs yet. Keep following the blue paint around the hill and to the right. Once you get around the small escarpment on your right, the cliff reveals itself down to the right. The path is very good and the area beneath the cliffs is flat and comfortable.
Total walking time: 25 min.
GPS Coordinates: Latitude 37.03 13.05, Longitude 26 58 05.69
After climbing at Secret Garden you can pop over to Palionisos for a drink and a swim in the emerald green waters of the bay; it's less than a 10-minute drive away.
ROUTES (from left to right; all names are marked at the start of each route)
1 Achinos 2* 6a+ 25m
2 Ricci di Mare 2* 6b+ 28m
3 Sam Suffit 3* 7a 20m
4 Markoutsi 3* 7b 25m
5 Magioros 3* 6c+ 25m
6 Remetzo 3* 6c 20m
7 Bratsera 3* 6c 20m
8 Margarita 3* 6b+ 20m
9 Dirlanda ♪ 7b+ 25m
10 Syrtaki Lessons ♪ 8a 25m
11 Savina 3* 8a 25m
12 Chien Jaune 3* 7b+ 35m
13 Half Job 2* 7b+ 30m
14 Pomponpidoux 3* 7b 30m
15 Route 69 3* 7b+ 30m
16 Melodrama ♪ 6c+ 25m
17 Frapogalo ♪ 6c 25m
18 Ballos 2* 7b 25m
19 Adolflahaut 2* 7a+/b 25m
20 Ikariotikos ♪ 7b 25m
21 Ricounet ♪ 7a 25m
22 Crisis 3* 7a 25m
23 Princesse Marine 3* 8a 25m
24 L'insoutenable légèreté de l'être 2* 7b 25m
25 Apocalypse 3* 6c+ 20m
26 The Floodgates Part 1 2* 6c+ 18m
27 The Floodgates 3* 8a+ 40m
28 Stigma 3* 7b 20m
29 Bourré mais pas pleine 3* 7b+ 40m
30 Puffa Puffa Puffa 2* 7c 30m
31 Mayumba 2*/0* 7a+ / 7c? 25m/30m
32 Ymer 2* 6b 15m
This entry was posted on Friday, October 5th, 2012 at 19:11 and is filed under Kalymnos news, New Sectors. You can follow any responses to this entry through the RSS 2.0 feed. You can skip to the end and leave a response. Pinging is currently not allowed.
11 Responses to "Secret Garden, a new climbing sector in Kalymnos"