Space Walk: a new, easy multi-pitch route on Kalymnos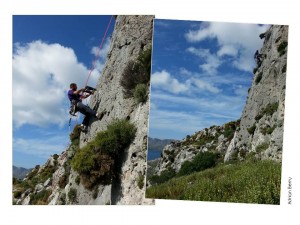 After last year's Three Stripes, this year the growing repertoire of multi-pitch climbing on Kalymnos has been enriched by Space Walk: a seven-pitch route equipped in May 2014 by Adrian Berry and Gaz Parry which starts at the far right of sector Panorama and ends at the highest point above it. Adrian and Gaz explicitly set off to equip 'the easiest multi-pitch on the island', so the difficulty of Space Walk never exceeds French grade 5, while a couple of the pitches are easy walks/scrambles. Says Adrian: 'Each time I go out to Kalymnos I try to do some equipping – partly out of the fact that I enjoy it and partly because it's good to give something back. In September last year, Gaz and I bolted a three pitch route above the Afternoon slab which will probably be the hardest multi-pitch on the island. This time we decided to take a contrasting approach and bolt the easiest multi-pitch on the island! I've always thought that one of the things really lacking on Kalymnos is accessible multi-pitch routes, especially in the lower grades…' (Read the full story here.)
We look forward to your comments about Space Walk, and many thanks to Adrian and Gaz!
SPACE WALK
|
Print
One of the easiest multi-pitches on Kalymnos, picking its way to the highest point above Panorama.
Gear: 70m rope and a good selection of quickdraws, including some long ones.
Pitch 1 Grade 2: Make an easy scramble/walk along the ramp to a belay. There are no bolts on this pitch.
Pitch 2 Grade 3: Follow the ledge leftwards to the second belay.
Pitch 3
Grade 4: Drop down (clipping a bolt on
Medical Project
to protect your second) and follow the low-angled rock left with just a couple of remotely technical moves to a belay just right of the final groove of
L'Homme Qui Tombe a Spit
.
Pitch 4 Grade 5: Follow the groove of L'Homme Qui Tombe a Spit continuing past its clipper lower-off to a belay on the slab above.
Pitch 5 Grade 4: Follow the big slab up and left to the edge of a large ledge/meadow. The belay is set back a few metres.
Pitch 6: Walk back through the 'meadow' to the base of the final pitch.
Pitch 7 Grade 5: Climb the pocketed wall to the top of the wall.
Descent: The last pitch can be descended by abseil, lowering-off, or with a little care by walking around. From the meadow (top of the 5th pitch) abseil to the belay of one of the routes below—the belay of D.T.F. is probably the best-placed. Take care not to get your rope snagged on bushes and consider removing any that pose a threat. Another option is to use an abseil station above the central section of Panorama, though at the time of writing that was not equipped with a maillon. Alternatively, with two 80m ropes you can walk along to the abseil station above the Grande Grotta and come down that way.
Space Walk | Print
_____
All info and photos courtesy of Adrian Berry
This entry was posted on Wednesday, July 9th, 2014 at 16:29 and is filed under Kalymnos news, New Multi-pitches. You can follow any responses to this entry through the RSS 2.0 feed. You can skip to the end and leave a response. Pinging is currently not allowed.