St. George, a new climbing sector in Kalymnos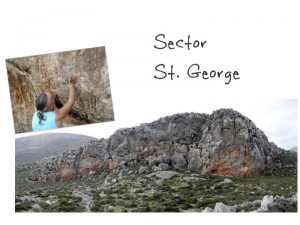 St. George is a new climbing sector recently 'discovered' and equipped on the southeast tip of Kalymnos by Chris Craggs, Colin Brinks and Sherri Davy. As you can read in Chris's full account here, the team embarked on the quest for a new sector with a checklist of cliff prerequisites, all of which sector St. George seems to satisfy. It is…
-not too far from the road (a mere 10-min flat approach)
-not too tall (the cliff is about 25m high)
-not too hard (routes are between 6a-6c+)
-big enough for a minimum of 10 routes (there are exactly 10 new routes)
Plus, sector St. George comes with the added bonus of afternoon shade, which is rare on Kalymnos. St. George is on the SE tip of the island (a nice break from the busier yet 'trademark' Masouri crags), a 10-min walk along a trail off the Pothia-Vlichadia road. It features good quality rock and some nice views over the islands of Kos and Nisyros and the coast of Turkey. Note also that the twin beaches of Vlichadia at the end of the road are quite nice, if you feel like a swim after climbing.
As with all new sectors, there is always the possibility of loose rock, so be extra careful!
Read Chris Craggs' full account here, and feel free to send us your comments and feedback should you climb any of the new routes.
This entry was posted on Thursday, March 10th, 2011 at 11:48 and is filed under Kalymnos news, New Sectors. You can follow any responses to this entry through the RSS 2.0 feed. You can skip to the end and leave a response. Pinging is currently not allowed.
One Response to "St. George, a new climbing sector in Kalymnos"