Summer Climbing Course
Climbing Course on Kalymnos with Aris Theodoropoulos (August 1-10, 2017)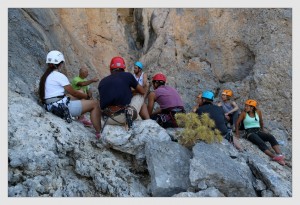 1. Who is it for? The climbing course is for beginners, so for anyone aspiring to take his / her first steps in rock climbing. It is also ideal for indoor climbers who would like to make the transition to safe outdoor climbing. No climbing experience is necessary. For foreign students, there is simultaneous translation into English.
2. What does the course cover? Everything you need to know to start climbing safely. It is a great intro to sport (bolt-protected) climbing in a venue known worldwide for its safe bolting practices.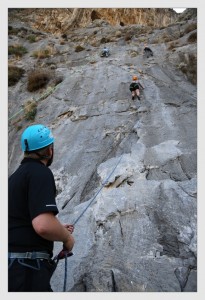 3. Specifically, the course teaches you to:
– Climb on top-rope and on lead
– Belay both a top-rope and a lead climber safely
– Use, store and maintain essential climbing equipment, and understand how to use a guidebook
– Use proper climbing commands and communication
– Move on the rock using core climbing moves and proper technique
– Understand the risks of climbing outdoors
– Increase your skills, confidence and enjoyment by climbing a lot!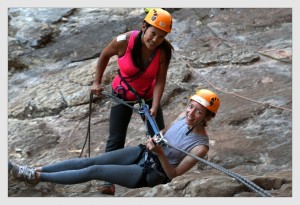 4. Who teaches the course? The instructor is Aris Theodoropoulos, a leading Greek mountain guide and climbing instructor, who has run his own climbing schools for 20 years. Aris has opened numerous climbing routes on Kalymnos and he is very active in the organization and maintenance of rock climbing on the island.
5. When is the application deadline? Apply by July 15th, 2017. Space is limited, so we encourage early applications. To apply, please contact us and we will email you more details.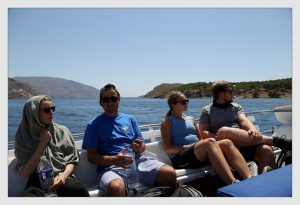 6. How much does it cost? €400 per student (student – instructor ratio 6:1)
7. What does the €400 tuition cover?
a) 9 days of guided and instructed climbing (approximately 6 hours per day). The goal for most participants of this course is to climb independently and to 'lead' a climb.
b) All safety equipment (except the climbing shoes)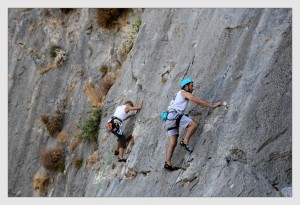 8. Is climbing gear included in the tuition? Yes, it is, except for the shoes. You will have to bring your own climbing shoes.
9. Is accommodation or food included in the tuition? No. You are free to stay wherever you like; however, we can book the accommodation for you at studios offering discounted prices to our students. They include a kitchenette so you can prepare your own food, while restaurants are plentiful and prices in Kalymnos are significantly lower than in most other Greek islands.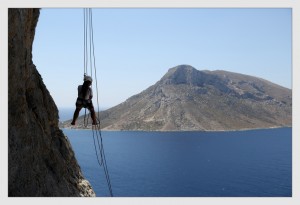 10. What else do I need to bring besides climbing shoes? Comfortable clothing; sunglasses & hat; a good pair of trainers/gym shoes; a fairly large backpack (> 25 lt).
11. How do I get to Kalymnos? By ferry or airplane: click here for details.
12. To sum up, what will I need?
Passport/ID; flight/ferry tickets; food; personal accident + travel insurance; climbing shoes; gym shoes, backpack; accommodation; scooter/car for transport to the crags.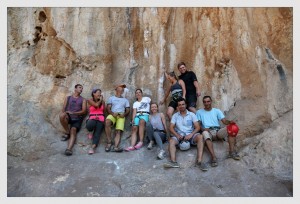 Please contact us to apply, or if you have further questions. For information about the summer climbing course in Greek, click here.
For photos from our two previous summer climbing courses click here and here.