'Inspiration', a new multi-pitch route on Telendos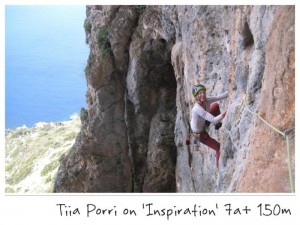 Yet another multi-pitch route comes to join the popular Wings for Life and Wild Country on Telendos, the trademark small isle opposite the west coast of Kalymnos. Inspiration, 7a+ max (6c obligatory) 150m was equipped by Simon Montmory in April. We haven't climbed the new route ourselves, so for your information we have included the route report by Simon himself, only slightly edited, after he and Tiia Porri climbed it in May. Here's what he says about Inspiration: "It's very nice rock, well-protected and steep from beginning to end. It will need more people to climb to clean it, but after some more climbers it will be excellent. […] Inspiration is close to an amazing arch surrounding the ground at more than 100 meters. The rock is excellent all along the route and the view is fantastic. It's very well-equipped and you climb on steep rock from the beginning to the end!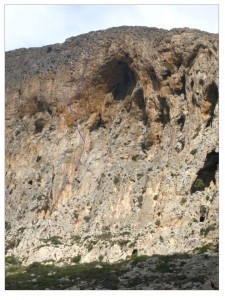 Inspiration 7a+ max, 6c obligatory, 150m:
L1 6b+, L2 6c, L3 7a+ (a climb in the style of DNA!), L4 6b, L5 6b+
Conditions and materials: Avoid going on a damp day. The route is in the shade until 1.00 pm. 16 quickdraws, helmets necessary.
Approach: From the village of Telendos, take the path going to Princess Canyon. Turn right 10m after the second door, and follow the yellow marks to the bottom of the crag (45 min). The path is excellent and it's also a very good walk if you are not a climber. It gives another view of the island.
To return to the village: When you reach the top of the wall, head right in the direction of Masouri (15min). At the top, turn on the right of it and walk down following the yellow marks (from here 30 min to the harbour)".
For more info and photos about Inspiration, the new multi-pitch on Telendos, please click here. Thanks Simon!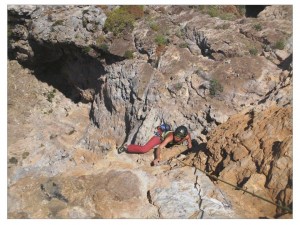 This entry was posted on Tuesday, June 7th, 2011 at 00:08 and is filed under Kalymnos news, New Multi-pitches. You can follow any responses to this entry through the RSS 2.0 feed. You can skip to the end and leave a response. Pinging is currently not allowed.
3 Responses to "'Inspiration', a new multi-pitch route on Telendos"