Guidebook
__________________________________________________________________________________________
Buy the guidebook
Now €35 + €3 worldwide shipping.
Clicking on "Buy Now" will redirect you to PayPal for fast & secure checkout.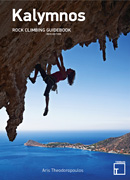 All orders are posted within two working days of payment to the address you have provided on PayPal. PLEASE DOUBLE-CHECK YOUR ADDRESS ON PAYPAL TO ENSURE IT IS CORRECT. If you would like us to post the guidebook to a different address, you must notify us under "Instructions to Merchant" or send us an email with the proper address at the time of purchase. If your address on file with PayPal is incorrect/outdated and the guidebook is returned to us, we will have to charge you for the postage should you require us to re-send the guidebook to the correct address.
Shipping: Guidebooks are shipped using the Greek Post Office's international airmail. You will not be able to track your package, but in our experience the post is very reliable. Average delivery times are 10-15 working days (2-3 weeks) to EU countries and 20-25 working days (4-5 weeks) to the rest of the world. All books are safely packed in a 100% recyclable stiff book mailer derived from recycled post-consumer waste.
Click here to enjoy a preview of the Sikati Cave pages.
__________________________________________________________________________________________
Publication info
Kalymnos Rock Climbing Guidebook by Aris Theodoropoulos
Publisher: Terrain
Pages: 360
ISBN: 978-960-9456-19-7
The all-new 2010 edition features:
– 64 climbing sectors
– Nearly 1,700 routes
– A concise crag planner
– New photo-topos and stunning images
– Detailed maps with approach paths
– More useful crag info: conditions, rock type, sun, orientation, 'child-friendliness' of each crag
– More details on how to equip new routes
– More tips on travel, accommodation, amenities, local interests and rest-day activities
– A new, more user-friendly page layout
Reader reviews (2010 edition)
Lothar Mauch (France)
Outstanding ! The best topo to date I have seen – and you know that I climb since 40 years around all climbing sites. Felicitations !
Lars Gilberg (Norway)
I am very impressed by the new guidebook. This is the overwhelmingly high standard now, for people who want to make a world class guidebook elsewhere in the world.
Dave Musgrove (UK)
I used up all my superlatives when I reviewed the last guidebook but I will have to learn some more now. The new guide is even better!
I bought my first Kaly guide in 2004 and that edition described 42 sectors containing less than 500 routes. Since then there has been the 2006 version plus a reprint and addenda in 2008 and now this new 2010 edition has 64 fully described sectors and over 1700 routes. As a guide writer myself I am amazed at how Aris has found the time and energy to keep track of the furious pace of development and constantly improve the guidebook product. This edition is slick, stylish and 'state of the art' in terms of guide publishing technology. It is also a tremendous and inspiring read. At 38 Euros it is not cheap but well worth the outlay. The text, topos and first ascent details are all much easier to read and relate to each other, and the crag as you look at it. A lot of grade rationalisation has been undertaken so your ego might not be massaged quite as much as it used to be but so many quality routes of every style are out there waiting for you that it hardly matters what grade you climb you will enjoy the experience. Remember also that Kalymnos is no longer just the May and October venue we used think it was. New crags face in every direction and it is possible now to find great routes in sun or shade at any time of the year. Well done again Aris and team. I will be back next year to hopefully add to your list of routes for the next edition!
I can't think of a time when I have used a guidebook and not found something about it frustrating, difficult to use or lacking some useful information.  Most guidebooks do one or two things well but are let down in other departments.
The 2010 edition of the Kalymnnos guidebook is clearly an exception to this rule and without doubt the best guidebook I have ever used…….. Even if you are only thinking about visiting Kalymnos I would recommend buying this book and can guarantee you will be booking your tickets shortly after.
Check out the full review at Climbapedia
Alex Honnold
Nice job on the guide book. Honestly, it's one of the best guide books I've ever seen for any area in the world. It's funny to say but it may seriously be the best guide book in the world. Thanks for all the hard work developing everything here and maintaining it.
The 2010 Kalymnos guidebook is the best freakin' guidebook in the world. 360 pages, chock full of pics (maybe 1000+ pics?), good descriptions to get you psyched, accurate topos, sexy layout. All the beta for your holiday. It's awesome.
Al Randall
I have just returned from an excellent trip to Kalymnos. At first I was a little taken aback by the price of the guidebook but after using it for a week and considering all the additional routes compared to the previous guide I now consider it good value. Very well done it's a superb guidebook. Keep up the good work. I can't wait for my next visit and that's an old trad climber speaking.
Jack Keogan
I bought your guidebook before going out last year and thought it was one of the best climbing guides I have ever used. Along with pragmatic, safe bolting an sustainability of tourism, I think it is one of the key things that has helped to unlock the islands potential as a climbing destination.
Previous reviews (2008 edition)
Chris Craggs – UK – Award Winning Guidebook writer
The current edition is a lovely guide, almost a Kalymnos souvenir in the way it captures the magic of the place. Really looking forward to the next edition too.
Neil Gresham –UK
"This is the best guidebook I have ever seen. I am so impressed. I can't imagine how hard you must have worked on this. Full credit. It will do so much for Kalymnos climbing."
JB Tribout – France
"I just receive the guide today and I want to say: congratulation!
It's the best guide book I ever seen. It's nearly a book with a really nice atmosphere. You can see how Kalymnos is about pleasure, friendly group of people, and all level climbing."
CLIMBING magazine No 257 (May 2007)
"The Greek island of Kalymnos is Mediterranean heaven: The blue-green Aegean sprawls at your feet, and an escarpment of bullet limestone laced with tree-sized tufas and tacky grey/orange plaques sits just uphill. Dream vacations also need dream guides, and the tireless mountain guide and first ascentionist Aris Theodoropoulos kills it with his revised Kalymnos Rock Climbing Guide. In Greek and English, this sexy, photo-rich resource lays out 43 sectors, with photo topos, brief route descriptions, and approach and sun/shade information. But mainly it lets you dream – a good mix of scenic, lifestyle, and climbing shots show just why this small, otherworldly desert island is so damn special."
CLIMBER magazine, Dave Musgrove (Feb 2007)
The guide exudes enthusiasm, and a passion for the sheer delight of movement over steep rock but also is a great advertisement for the culture, history and delightful ambience of this superb location.
The layout is full colour with photo topos, and hundreds of photographs showing routes, climbers, interesting archaeology, local ecology and geology and places of interest. In short a tour guide to the island of Kalymnos as well as a very well documented guide to the climbing.
The introductory chapters and crag approach descriptions are written in both English and Greek, but all route descriptions are in English, now accepted as the universal climbers' language on the island by all cafe, bar and hotel owners as well as most taxi drivers and shop keepers. … This is by no means an elitist location nor an elitist guidebook; climbers of all abilities from gnarly world famous alpinists to fresh faced wide-eyed beginners rub shoulders on the crags, in the bars and on the beaches.
…
All in all this is an inspiring guide to a brilliant holiday rock destination. Buy one, leave your nuts and Friends at home, and go enjoy. Aris and his team should be congratulated on a very timely and professional product which at 35 Euros is well worth every penny."
Matt Heason -UK (Planetfear.com)
"One neat feature which I really liked is the index which features a series of tick boxes so that you can record which routes you have climbed and in what style (onsight, flash, 2nd go, red point, hangdog, top rope). In fact the information section at the beginning of the book is one of the biggest I've ever seen in a guide, comprising 30 pages of English text and covering everything from 'When to Go' to 'Socialising'. No doubt this will come in particularly handy when waiting to catch the plane or on the beach during a rest day."
Chris the Tall –UK (ukclimbing.com/forums)
"I think the new guide is absolutely stunning – Most foreign guidebooks that I've seen are simply topos – nothing but the facts man – a few B&W photos if you're lucky. OK that's all you really need, but I like something more. I want a guide that will inspire me before I go, but also help me remember the routes when I get back.
Aris has clearly picked up some ideas from Rockfax, but he's taken it further. Not only have you got route descriptions, stars and lots of action pics, but you've also got lots of non-climbing photos and info. I reckon he's managed to infuse his guide with a flavour of the atmosphere of island. I defy anyone to have a look through it and not want to go there – I'm also hoping to go back in May!"
Federico Furia -Italy (planetmountain.com)
"The guidebook is bilingual (English-Greek) and is easy to understand with plenty of obvious symbols and photos. Every crag has a brief description, access info, orientation, climbing style, first ascent info etc. Photo topos have been used which render things even clearer, and each route has a star rating and a brief description. At the back of the guidebook there is a alphabetically-listed route check-box – for those all-important holiday ticks! Excellent".