About Us

Climb Kalymnos is a daily resource for climbers to stay informed on a wide range of Kalymnos-related topics. Our goal is to provide accurate, unbiased and up-to-date information on Kalymnos. To this end, your feedback is very important to us – feel free to leave a comment, or email us your questions, thoughts and suggestions.
Climb Kalymnos was founded in 2009 by husband-and-wife team Aris Theodoropoulos and Katie Roussou combining their passion and work backgrounds. Through their two websites, Climb Greece and Climb Kalymnos, their goal is to offer climbers around the world accessible, easy-to-understand information about a wide range of topics related to climbing in Kalymnos. Aris and Katie divide their time between their flat in Athens and their home in the shadow of the cliffs in Armeos, Kalymnos.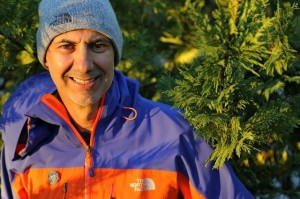 Aris Theodoropoulos is a mountain guide, climbing instructor, vertical access trainer and full-time Kalymnos activist. He is the author of four previous editions of the Kalymnos climbing guidebook; he has also authored a climbing training manual and a guidebook of Varasova, in Central Greece, and co-authored a mountaineering instruction manual.
Aris has directed the Acharnes Greek Alpine Club's Climbing & Mountaineering School since 1989, while he has equipped countless climbing routes all over Greece, many of which are classic, since the early 1980s. He is the former trainer of the Greek Army's Special Forces in climbing & rescue, and has served as a consultant to the Greek Mountaineering and Climbing Federation. He has been the official trainer of PETZL in Greece for consecutive years, specializing in Work at Height Safety & Rescue Training; among others, he trains the employees of COSMOTE, the country's largest mobile phone provider. In Kalymnos, Aris has collaborated with the local municipality since 1999 to organize the island's crags, promote its climbing, equip new routes and rebolt old ones, among other things.
Katie Roussou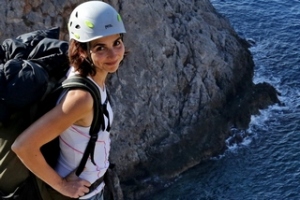 Katie Roussou is a translator, copywriter and narrator raised in both the USA and Greece. She has translated the Greece Sport Climbing guidebook (2014) and the Kalymnos guidebook (2010) into English, as well as written a part of the original copy in both books. Among other projects, she translates hiking maps from Greek to English for Terrain Editions, lends her voice to English narrations for museum projects, and she is the main administrator of Climb Kalymnos and Climb Greece, so you can email her any feedback or suggestions on how to improve either website.