3 Stripes: a nice & easy new multipitch on Kalymnos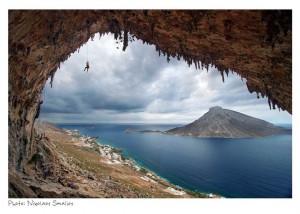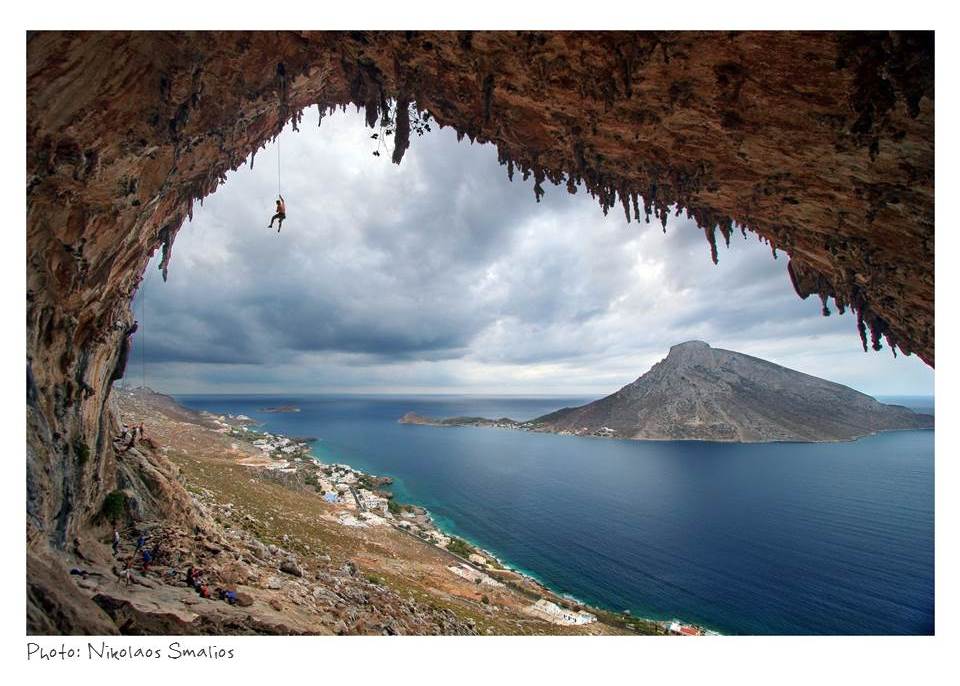 Kalymnos 'veterans' Peter Keller & Urs Odermatt have enriched the island with some of its most sought-after climbs, and there's no stopping them. The latest product of their hard work, once again with the help of Markus Leippold, is a new, easy six-pitch route called 3 Stripes (5c 175m) to the left of sector Spartacus. Adidas was the sponsor, hence the name, and bolts were provided by the Glaros Bar bolt fund, which is supported by climbers' donations. Given the route setters' track record in Kalymnos, 3 Stripes is expected to be at least as popular -if not more- as their other multipitches. Besides, the combination of lower-grade climbing followed by an otherworldly abseil is every mountain guide's dream of an intro to multipitch climbing with clients.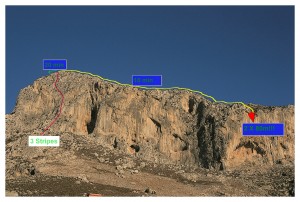 The beta
Route: 3 Stripes, six pitches (5c, 175m)
Pitches: 4a 35m / 5a 40m / 5b 30m / 5c 20m / 5c 20m / 5b 30m.
Climbing character: 3 Stripes is fully and densely equipped with stainless-steel bolts.
Climbing is delightful, on slabs and walls with big holds.
Required gear: 14 quickdraws / 2 belay devices /
2-3 screwgate carabiners / 2-3 slings / helmet /
one single 60m rope (or two 80m ropes if you plan to abseil; see below).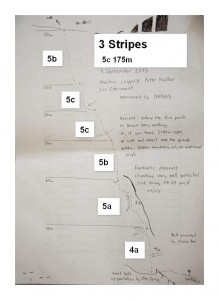 Approach: start at Philoxenia Hotel at Armeos; head up the trail to Grande Grotta and further left to Spartacus. 3 Stripes begins immediately left of Spartacus (left of the fence). Total time: 25-30 min.
Return: when you get to the top of 3 Stripes, walk to the left for 20-30 min. There are blue marks along the descent path.
Abseiling (for experienced climbers only): after climbing 3 Stripes, you can walk to the right and abseil down the middle of Grande Grotta. You must have two 80m ropes and be experienced in abseiling. Tip: you can hide one of the two ropes at the base of Grande Grotta. One of you will abseil using the fixed single 80m rope you brought along. Then, you can tie its end to the second rope you'd left at the cave for your climbing partner(s) to pull up.
Have you climbed 3 Stripes yet? If so, tell us what you thought!
This entry was posted on Thursday, September 19th, 2013 at 21:56 and is filed under Kalymnos news, New Multi-pitches. You can follow any responses to this entry through the RSS 2.0 feed. You can skip to the end and leave a response. Pinging is currently not allowed.
14 Responses to "3 Stripes: a nice & easy new multipitch on Kalymnos"