A climbing gym in Kalymnos? Yes, indeed!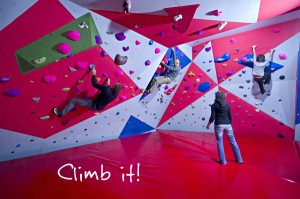 Happy New Year everybody! In Kalymnos, the year started with a fresh and interesting climbing development: the island's first indoor climbing gym, 'Climb in'. Of course, most climbers have wondered 'what?!! Why in the world would anyone on Kalymnos climb at a gym?' The idea, explains owner Loukas Dourdourekas, 'is for locals, mainly the children, to start climbing'. And he makes a valid point; in the past 11 years, since climbing was developed on Kalymnos, only a handful (literally) of local climbers have emerged. Though climbing has revived the local economy and Kalymnians have undoubtedly supported and embraced it as a business venture, they themselves have yet to give climbing a try. Well…if Kalymnians won't go to the mountain, the mountain must come to them.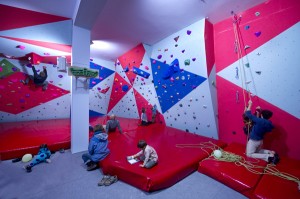 Thus Loukas Dourdourekas, an accomplished climber, resident of Kalymnos and father of two, opened 'Climb in' in November. It is 'strategically' located in densely populated Hora, the heart of the Kalymnian community. Hora is where most Kalymnian families live and most schools, tutors, the public stadium, etc, are to be found. For the moment 'Climb in' features a sizable bouldering wall with a small section off to one side for learning basic rope technique. Climbing shoes, harnesses, and instruction are provided. Now Kalymnians wanting to find out more about climbing can do so in a controlled, less intimidating environment.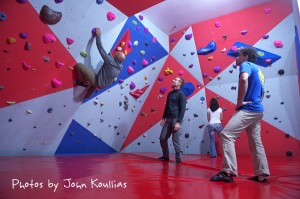 Hopefully this will help to demystify climbing and make it an integral part of life on this supremely gifted island. Far from forcing people to climb, any effort to promote a more active lifestyle is positive. Furthermore, we hope Kalymnian parents will realize that climbing is a very low-risk activity when safety rules are followed, and that, like any sport, climbing can keep kids out of trouble (it's certainly much safer than riding scooters without helmets, holding a cigarette in one hand and a cell phone in the other!)
For more info on opening hours and rates or to arrange a time for you and your friends to train (on a rainy day, for example), see below.
Contact info:
Climb in Gym
Loukas Dourdourekas
Tel: +30 694 902 7077
How to get there: As you head from Masouri to Pothia (the port) on the main road, follow the road going through Horio (or Hora). When you come to a large baby store called "Jumbo" (to the right), make a left turn. 'Climb in' is approximately 100m further on your left-hand side.
This entry was posted on Friday, January 14th, 2011 at 17:32 and is filed under Kalymnos news. You can follow any responses to this entry through the RSS 2.0 feed. You can skip to the end and leave a response. Pinging is currently not allowed.
8 Responses to "A climbing gym in Kalymnos? Yes, indeed!"