A new rescue team on Kalymnos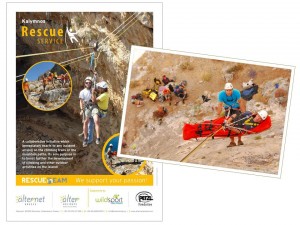 Kalymnos is widely considered one of the safest climbing venues in the world, largely thanks to the excellent rock quality, dense bolting with stainless-steel bolts, and overall good organization of the crags. However, as it is also one of the most popular climbing destinations worldwide with thousands of climbers visiting every year, chances of human error and accidents increase accordingly. Until now there was no rescue team on Kalymnos. When an accident happened, the injured climber relied on a handful of dedicated local volunteers and the stretcher and donation fund from the Glaros Bar. Now there is a new rescue team on Kalymnos funded and organized by a local company and staffed by climbers / volunteers; a very important, and hopefully viable, initiative. Here are the details.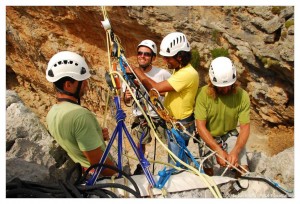 The rescue team
There are six volunteer climbers staffing the main rescue team. They are trained to rescue an injured person from the crags and approach paths with or without the use of ropes and to provide first aid. Another 14 volunteers are trained to help. A local company, Alternet, organized and funded the creation of the rescue team; specialized equipment was donated by Wild Sport in Masouri, and the Petzl Foundation supported the initiative by offering additional 5-day training to the six main volunteers of the rescue team.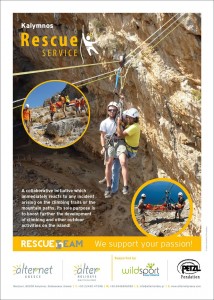 Cost
Until the end of this year rescue services will be provided to climbers free of charge. In the future there may be a fee-per-rescue; we will update here when we know more. Alternatively, by purchasing the Alternet card (a discount card for a variety of shops and businesses in Kalymnos) climbers also get access to rescue services. The card costs 25 euros for one month and it's sold at Oasis Hotel, at Plaza Hotel and at Wild Sport shop, all in Masouri. For more information about the card and the rescue team, here's Alternet's full rescue brochure.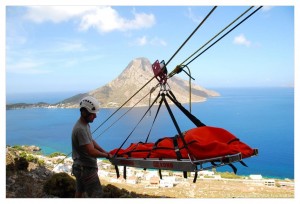 This entry was posted on Thursday, October 17th, 2013 at 22:30 and is filed under Kalymnos news. You can follow any responses to this entry through the RSS 2.0 feed. You can skip to the end and leave a response. Pinging is currently not allowed.
5 Responses to "A new rescue team on Kalymnos"