Last Saturday's cleanup in Masouri: thoughts and photos (updated)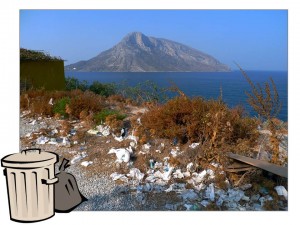 This coming Saturday morning, September 7th at 09:00, locals and climbers will come together to clean the roadside between the villages of Masouri and Arginonta. Initiated by a group of Kalymnians who also cleaned some of the area's beaches earlier this summer, the cleanup is a good chance to raise awareness about our serious trash problem and get people involved. Though not a permanent solution, it's definitely a step in the right direction – and any positive change is better than none. If you'd like to volunteer, all you need to do is come to Noufaro restaurant in Armeos on Saturday morning at 09:00.
See you there!
WHEN / WHERE: Saturday, September 7th 2013, 09:00 am at Noufaro Restaurant in Armeos
__________________________________________________________________________________________
Updated Sunday Sep 9th
Thoughts about (and photos from) Saturday's volunteer cleanup
So, you say, how did the cleanup go?
Well, about twenty volunteers showed up, the majority of them climbers. The area we covered was from Noufaro restaurant to the parking area by Kasteli. Volunteers split up in pairs or in threes and collected an assortment of rubbish ranging from the predictable (beer cans, water bottles, plastic bags) to the absurd (strap-on plastic boobs. Seriously.) Each volunteer filled at least two large bags, which were then hauled to a spot in Armeos and collected later in the day.
The fact that so much rubbish was collected was hailed by those present as a 'good thing'. But, at the same time, the fact that so much rubbish was collected is no cause for celebration – it's cause for alarm. Who and where are these people who casually toss their beer cans and plastic boobs out the window? Obviously not cleaning it up on Saturday morning. And the worst part? Driving by Kasteli on Saturday evening, i.e. later on the day of the cleanup, we already spotted Coke cans tossed by the roadside.
Eric Maanders' post on our facebook page reflects a lot of people's discontent. Eric says: The idea is nice. But why others have to clean the mess, locals made. We cleaned many beaches and the result a day after is again a mess. I pass this time, unless its an educational day for the locals and they will be there with at least a hundred people.
Most of us agree, and unfortunately there were neither a hundred people present (far from it) nor any educational aspect. But the other option? To stop trying altogether.
In any case, there were some positives:
– A lot of rubbish was collected. It's only temporary damage control, but still.
– Local TV was there, and so far the garbage issue has sparked plenty of airtime and public discussion. If anything raises (at least some) awareness, this may be it. Until the next time, and the next, and the next.
– The people that did show up were very enthusiastic and happy to 'give back' to Kalymnos – as volunteers usually are.
And the negatives:
– Not nearly enough people.
– Only one kid participated (and thumbs up to his mother for bringing him). How can this be an educational event without kids, by far the most receptive audience? One of the volunteers told us his school in Finland made all students participate in cleanup events once a year. Why can't we do that?
On a final note, to acknowledge all the people who clean up beaches and crags anonymously: you are great! Keep it up when you can, even though nobody knows about it and you didn't put the litter there in the first place.
Lastly, we'd like to reply to the following post by Irma van Velzen. She posted the following on our facebook page: "Why to help you with this cleaning??? Where are you when we clean the beaches!!! We ask so many times help for cleaning nobody comes. Also the cracks are durty, done by climbers!!! Where are the locals it is there problem and they have to save it. But i think all has to do with your ego, you want your name BIG!!!".
We are not there when you clean the beaches, Irma, because you have never, ever asked us. If you don't want us to write about it and make our name 'big' (?), be our guest and write a post on our forum yourself. Websites and facebook pages are extremely useful tools in these situations. Whether or not you choose to use them is up to you.
Many thanks to all the volunteers and to the following businesses for their support:
Stalas Super Market, Myrties, for generously supplying us with bags and gloves
Hibiscus Market, Masouri, for the bags
Sofrano Cafe and Fani Mini Market, both in Armeos, for the much needed refreshments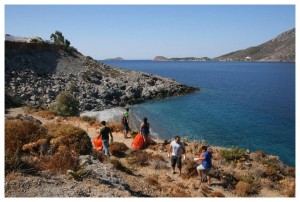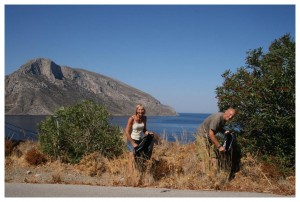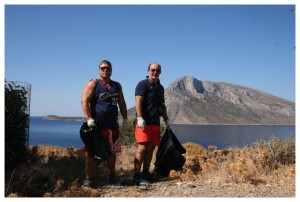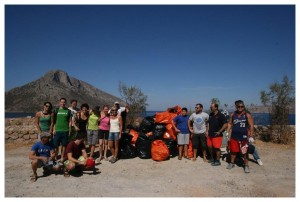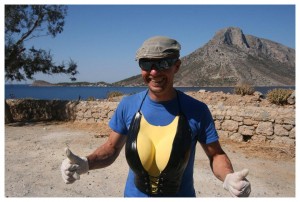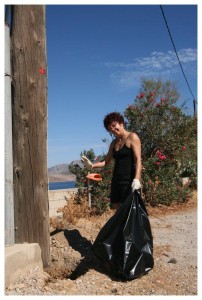 This entry was posted on Monday, September 2nd, 2013 at 22:08 and is filed under Kalymnos news. You can follow any responses to this entry through the RSS 2.0 feed. You can skip to the end and leave a response. Pinging is currently not allowed.
8 Responses to "Last Saturday's cleanup in Masouri: thoughts and photos (updated)"