How to make Kalymnos lower-offs last longer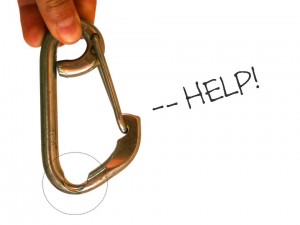 Would you feel safe lowering off a half-eaten carabiner? Isn't it scary to see metal down to half its thickness? Well, in Kalymnos it's a symptom of overuse. Climb after climb, even these heavy-duty metal carabiners succumb to exertion when they have to endure thousands of ascents whilst bearing all the load. But there is a super easy way to help prolong the life of Kalymnos lower-offs: just bring along an extra quickdraw, clip it at the top bolt when you reach the anchor, and lower from it every time until you are ready to move on to the next climb. This takes some of the load off the fixed carabiners at the anchor; the first person in a climbing party clips it and lowers from it, the last climber unclips it before stripping the route. If we all make this part of our regular climbing routine and point it out to unaware climbers as well, thousands of ascents later it will have made a huge difference towards the safety and maintenance of routes (both more important than ever as the number of routes on Kalymnos has exceeded 1,800).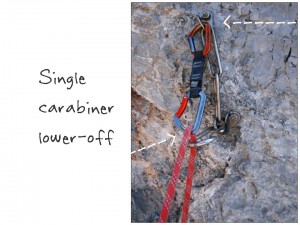 Here's what to do (also on page 31 of the guidebook).
On lead:
When you reach the top, place a quickdraw at the top bolt; clip your rope both through the quickdraw and the permanent carabiner(s). The last person in your party removes the quickdraw and strips the route.
On top-rope:
Place a short quickdraw or screwgate carabiner on the bolt of the anchor in addition to clipping your rope through the fixed carabiner. When you finish top-roping the route, the last climber in your party removes the quickdraw and lowers from the permanent carabiner(s).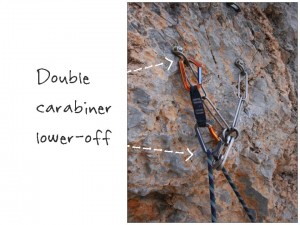 That said, we are appealing to your sense of good faith to start doing this next time you climb. You don't have to, but it truly makes a difference!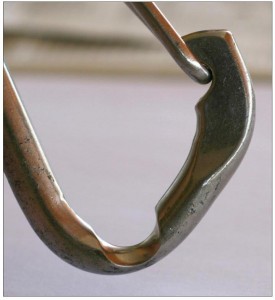 This entry was posted on Friday, July 1st, 2011 at 00:16 and is filed under Kalymnos news. You can follow any responses to this entry through the RSS 2.0 feed. You can skip to the end and leave a response. Pinging is currently not allowed.
17 Responses to "How to make Kalymnos lower-offs last longer"
« Older Comments
« Older Comments