'Kalymnian Dreams', a new climbing film by Blomu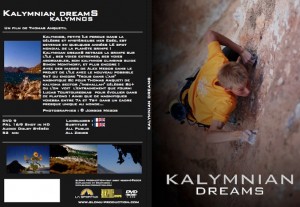 A new film about Kalymnos climbing, with the evocative name Kalymnian Dreams, was released by Blomu Production (a.k.a. Thomas Anquetil, the 16 year-old climber from Chamonix). It was filmed in the summer and fall of 2009, and it is a great addition to the few films made about Kalymnos (with an excellent soundtrack, too!). Routes featured in the film are mostly in the 8c–9a range; some climbs are brand-new, some are unforgiving, and others are classic routes of Kalymnos, 'the universal spot for the climbing planet', as it is described in the film summary.
Climbers featured in Kalymnian Dreams:
-Thomas Anquetil (French 16 year-old climber)
-Alexander Megos (German-Greek 16 year-old climber)
–Simon Montmory (French climbing guide and permanent Kalymnos resident)
-Oscar Cacho Vila (Spanish climber)
-Loukas Dourdourekas (Greek climber, permanent Kalymnos resident)
–Tiia Porri (Finnish climber, diving instructor and part-time Kalymnos resident)
Language: French and / or English with subtitles
Duration: 52 minutes
Release date: December 2009
Produced by: Blomu Production
To buy the film, please click here.
Trailer
This entry was posted on Tuesday, January 26th, 2010 at 14:18 and is filed under Kalymnos news. You can follow any responses to this entry through the RSS 2.0 feed. You can skip to the end and leave a response. Pinging is currently not allowed.