Kalymnos 'Bolting Event' in 2013 & Ryanair updates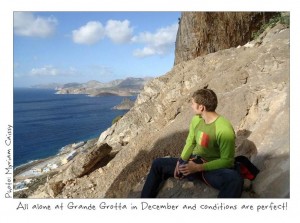 The end of a slower-than-usual fall season in Kalymnos brings news of yet another agreement between Kos and Ryanair as well as a bolting event initiated by a German climber to take place in 2013. Jürgen Rohrmann of Sachsenheim, Germany, is inviting experienced route equippers who've put up routes in Kalymnos over the last years to participate. His company will provide bolts for new routes and arrange for discounted accommodation, food and scooters; equippers will have to bring their drills and pay for their airfare. We have suggested that each equipper rebolt some of their previous routes (where bolts may be corroded, old, or otherwise in urgent need of replacement) and Climb Kalymnos will provide the bolts for rebolting. The event is scheduled to take place from October 26th – November 9th 2013.
For next year it seems that Ryanair will be flying to Kos from March 31st – October 31st. This year flights to Kos stopped at the beginning of October, at the height of climbing season, which is probably one of the main reasons for the obvious drop in the number of climbers. Before the agreement between Ryanair and Kos fell through, 120 flights (15.000 passengers) were scheduled for October 2012. The cancellation of these flights translated into an 18% drop in visitors to Kos. Most foreign climbers coming to Kalymnos travel via Kos, so Kalymnos was severely impacted as well, and this year October was much slower despite the added exposure from the North Face Kalymnos Climbing Festival. November was even slower, with very few climbers, but like last year conditions were perfect.
According to the latest local news, a new agreement has just been reached with the budget airline for the next two years and Ryanair will fly to Kos from March 31st – October 31st in 2013, the goal being to extend this by two months in 2014 and ultimately to year-round flights. The European airports connected to Kos are Bari, Bologna, Brussels Charleroi, Frankfurt Hahn, Kaunas, Leeds Bradford, Liverpool, London Stansted, Milan Bergamo, Oslo Rygge, and Pisa.
This entry was posted on Thursday, December 6th, 2012 at 12:28 and is filed under Kalymnos news. You can follow any responses to this entry through the RSS 2.0 feed. You can skip to the end and leave a response. Pinging is currently not allowed.
8 Responses to "Kalymnos 'Bolting Event' in 2013 & Ryanair updates"