Update: 2010 route maintenance on Kalymnos completed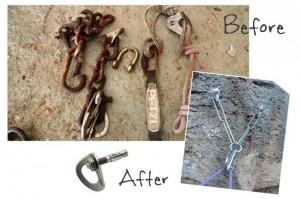 **Updated Wednesday, Dec 15th: This year's maintenance of 100 climbing routes, funded by the municipality of Kalymnos, has been completed at sectors Symplegades, Ghost Kitchen, Arhi, Galatiani, and on selected routes at sectors North Cape and Baby House. Maintenance was performed on more than 100 routes (which was the original plan), and selected routes at various sectors will continue to be checked and rebolted throughout the spring**
Please note that route Peristeri at sector Symplegades is no longer there, as the barbed wire fence with metal stakes at the base of the route posed risk of serious injury in the event of a fall. We will keep posting updates about the maintenance of routes as it progresses. Bolts and anchors are being replaced by Raumer's Hang Fix stainless steel expansion bolts and lower-offs with double opposed carabiners, respectively. See pages 31 and 37 of the new guidebook for more information about route maintenance and how to best use these 'bomb-proof' lower-offs.
The bolt replacement and maintenance was performed by Aris Theodoropoulos with the help of Simon Montmory, Claude Idoux and Luca Salsotto.
The plan is for 100 sport routes in total to be checked for bolt and / or lower-off replacement. We still believe more is necessary – more frequent maintenance and more routes each time— to keep up with the frenetic pace of climbing development on Kalymnos. The last maintenance of 100 routes on Kalymnos was performed in December 2008. We will continue advocating for more maintenance; on your part, please continue sending us your feedback about any irregularities, corroded bolts, etc, you notice on routes you climb.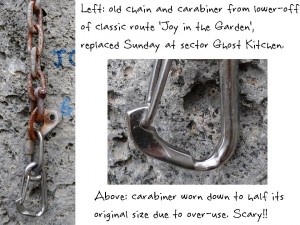 Weather permitting, maintenance will take a few more weeks through mid-December. For the moment November in Kalymnos has been unseasonably warm: these past few days have been mostly sunny, with just a few clouds, an occasional rain shower, and perfect climbing temps around 20º C…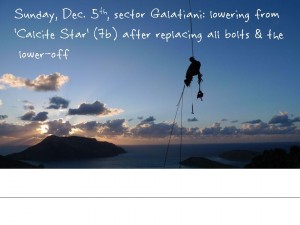 This entry was posted on Thursday, November 25th, 2010 at 15:10 and is filed under Kalymnos news. You can follow any responses to this entry through the RSS 2.0 feed. You can skip to the end and leave a response. Pinging is currently not allowed.
12 Responses to "Update: 2010 route maintenance on Kalymnos completed"