Neil Gresham on climbing, Kalymnos, and his new routes at E.T. Cave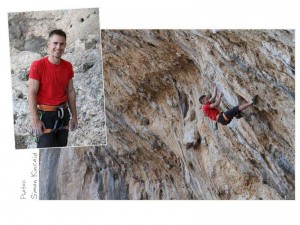 Kalymnos is very lucky to count some great climbers among its loyal friends. Surely one of the most prominent and dedicated is Neil Gresham, the well-known all-around climber and coach from the UK. Neil has been coming to Kalymnos regularly for over a decade; besides climbing he has equipped many quality routes, most notably perhaps at Jurassic Park and Spartan Wall. His latest routes (7b+ to 8b) are set up in a cave he'd been coveting near the northeast-facing sector E.T. on the east coast of Kalymnos, by Vathy. Read more about Neil's new routes at E.T. Cave as well as his thoughts on motivation, Kalymnos, and the future of climbing below.
Profile
Date of birth: 15.7.71
Height: 5ft 10 (178 cm)
Weight: 11stone (70 kg)
Started climbing in: 1983
Works as: Professional climber and coach | Training columnist for Rock & Ice, USA
and Climber magazine in UK
Sponsored by: Sherpa, Icebreaker, La Sportiva, Beal, Petzl.
Best redpoint: Mecca 8b+, UK, or Equilibrium E10 7a, UK
Best onsight: Fun de Chichunne 8a, Kalymnos
Web: Neil Gresham | Climbing Masterclass | Masterclass Coaching Academy
Questions
How did you get into climbing, was there anyone who inspired you?
My Dad took me to some sandstone outcrops near Tunbridge Wells in Kent, when I was about 12 years old. I hated sport at school and didn't have an athletic or competitive bone in my body. But there was something about climbing that just captivated me immediately. I knew straight away that I wanted to do it for the rest of my life.


Having climbed all over the world, where would you say you favorite place to climb is and why?


This depends entirely on what style of climbing you pick. For DWS it would have to be Pembroke or Majorca. For sport, of course it would be Kalymnos , with Cuba or China in close second. For trad, it would be Gritstone, although I'm not as brave these days! For ice, that's easy – there is nowhere to match the sea cliff ice in Iceland.


Have you got any new routes planned for this year?
Yes, there's a Deep Water Solo in Pembroke, which I narrowly missed out on last year. This has taken more dedication and training than any other route I've ever tried. If I do it, I'll retire (only joking!)


What is better and why, trad, sport, deep water solo or ice?
All are brilliant and you simply do which one the season permits. DWS in the summer, sport and trad in the Spring and Autumn and ice in the Winter. There is always something brilliant to do. There's never a time when you can't go climbing. Even when it's raining you can go to a steep cliff and when it's dark you can do what Tim Emmett does and get the head torch out!
When you're struggling with a route, how do you motivate yourself?


I have never had a problem with this. The motivation just keeps coming and I enjoy climbing more and more as the years go by. Maybe it's because I travel and do different styles. If climbing just boiled down to working the same routes at your local cliff I'd have given up years ago. The other day, one of my clients asked me why I was so motivated for climbing, and I replied by asking if they could think of anything better to be motivated for. Surely it's as simple as that?
What do you think the future holds for the sport?
It's incredibly exciting. Climbing will be huge, but it won't be any better or worse because it's huge, or goes to the Olympics, or Nike gets involved. The climbing experience is so untouchably brilliant that no matter what happens socially or politically, it will always provide those rare magical moments of tranquility.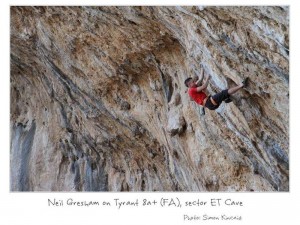 When did you first visit Kalymnos?
In 2000.
What did you think during that first visit?
I was utterly blown away. It didn't seem possible for a place like this to exist in Europe. The potential was incredible, and now, over a decade later it has virtually been explored.
How many times have you visited Kalymnos since?
At least once a year, although for the last four years I've come three times a year – mainly to do new routes.
What –if anything—differentiates Kalymnos from other climbing destinations?
It's the fact that the whole experience is so good – it's not just about the climbing. Everything you do in Kalymnos is enjoyable, from the minute you wake up to the minute you go to sleep – the beaches, the restaurants, the food, cruising around on scooters – it takes some beating!
As a climbing destination, where does Kalymnos get it right?
The climbing is super varied in Kalymnos, you have grey pockety slabs right next to mega-steep orange overhangs. There are beginners' routes right next to 8cs. The diversity is almost unrivaled.
And where does it go wrong? Any suggestions for improvement?
It just gets a bit busy at peak times now. We need more flights and more restaurants open in the winter!
What about the new hard sector you have developed recently at E.T. cave?
This is another first class sector for Kaly (if I may say so!) The nice thing about it is that it's away from all the crowds, around the less popular side of the island (near to the port of Vathy). The cave is in the shade all day and can be reached after a 20 – 25 minute walk. All the routes are in the F8s apart from one and the style is mega-steep tufa and pocket-pulling.
Most memorable routes you have climbed on Kalymnos (regardless of grade)?
There are too many to mention, but Princess 7c on Telendos is pretty special, as well as Fun de Chichune 8a. I'm tempted to list so many of the classics but it will make them even busier!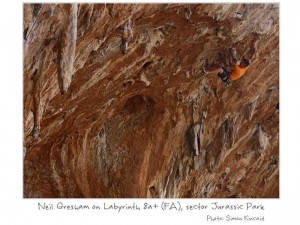 Which of your routes in Kalymnos do you consider to be the best?
It would have to be Aurora, the 8a in Kalydna. This was the first major route on the sector and it climbs all the way from the bottom of the crag to the top, in one giant 40m pitch. Other highlights would have to be Labyrinth 8a+ and Atlantis 8b – I just felt so fortunate to be able to put up new routes in that beautiful cave at Jurassic Park. Another one would be Tyrant 8a+ at E.T., as well as Floodgates 8a+ at Secret Garden. I enjoyed them all. How can I pick?!
Some climbers may be worried about visiting Kalymnos due to the ongoing economic crisis in Greece. How did you experience Kalymnos this year? Was your stay in any way affected by the crisis compared to previous visits?
Surely this is only going to make things better for the climbers and the locals? The local people have always been incredibly friendly and welcoming to climbers, and now they will be even more appreciative of good trade. Surely everyone wins.
When will we see you in Kalymnos again?
For once, I don't have a project, but I'll see you there this autumn for sure!
New routes by Neil Gresham at E.T. Cave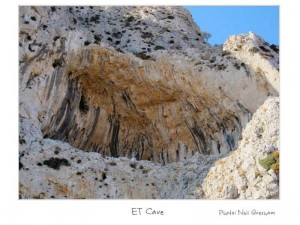 The routes are described from left to right. Dates may not be accurate.
1. The furthest left line is a project – not open – Liam Halsey UK
2. Megolamania 7b+ 14m FA Neil Gresham (April 2011?)
Start on the ledge. A technical crux leads to steep, juggy climbing on stalactites. Finish at a lower-off at half-height.
3. Rebellion 8b 18m FA Neil Gresham (March 2011?) Equipped by Neil Gresham & Simon Wadsworth
The lower wall and tufa leads to a rest, followed by a very steep crux sequence on widely-spaced, sloping holds. Finish at a lower-off at two-thirds height.
4. Uprising 8a+ 25m FA Neil Gresham (September 2011?) Equipped by Neil Gresham & Leah Crane
Climb the twisting tufas to a rest, followed by a sustained crux section, which leads rightwards through the main overhang. Climb the headwall to the top.
5. Tyrant 8a+ 25m FA Neil Gresham (September 2010?)
The classic of ET! Climb the first tufa then follow spaced pockets to the dramatic hanging tufa. Make a hard reach rightwards to gain the headwall, which is climbed to the top.
6. Dura Mater 8a 23m FA Neil Gresham (September 2010?)
Climb the lower slab then up a steep tufa to a good rest. A hard crux move leads to a sustained rightwards finish. The name means 'hard mother'!
All info & route descriptions courtesy of Neil Gresham
This entry was posted on Saturday, February 25th, 2012 at 13:17 and is filed under Kalymnos news, New Sectors. You can follow any responses to this entry through the RSS 2.0 feed. You can skip to the end and leave a response. Pinging is currently not allowed.