New routes at sector Summertime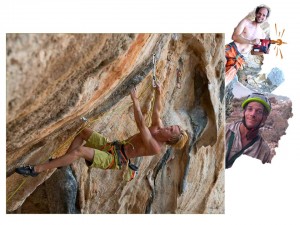 The few climbers visiting Kalymnos this month have been very lucky. With climbing conditions unprecedented for this time of year, during the first three weeks of July we have enjoyed a northerly breeze usually reserved for August. Most mornings we've worn long sleeves to belay, and with only a few other climbers sharing the crags we have enjoyed classic summer sectors like Odyssey and Secret Garden in complete privacy!
But still. The wind will eventually stop and hot summer days will come. When that happens, think Summertime: one of the coolest, shadiest crags in Kalymnos, with increasingly varied and interesting routes. Sector Summertime is one of only a handful of Kalymnos crags staying in the shade all afternoon and into the evening. You can always feel the temperature drop when you drive by on your scooter – it's a wonderful refreshing breeze in the summer, but a freezing slap of wind in the winter!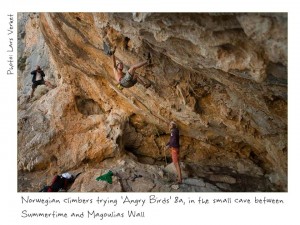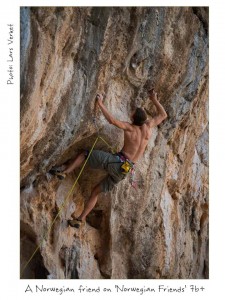 The aptly named sectors Summertime and Local Freezer now feature several new and interesting routes, bolted primarily by Simon Montmory with the collaboration, on some routes, of Ole Karsten Birkeland and a few other Norwegian friends. The easier routes at Summertime were bolted by Aris Theodoropoulos with Simon Montmory (and Katie Roussou doing the grunt work.) The majority of bolts, hangers and lower-offs for these routes were provided by the Climb Kalymnos bolt supply, which we fund with proceeds from the sale of the Kalymnos Guidebook.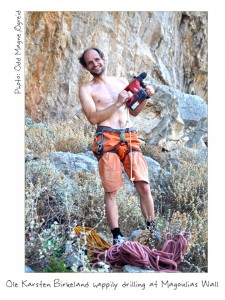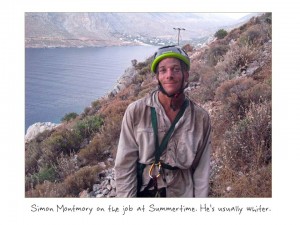 NEW ROUTES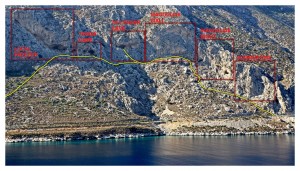 LOCAL FREEZER
8.1 Team Sogndal Vertical: 8a 20m Very bouldery
12 Kalymnos Friends: 7b+ 20m Steep and athletic
TONGA CAVE
–Tonge: 7a 12m 3* A short and intense route.
–Tonga: 7b 15m 3* Very nice overhang.
–Super Tonga: 8a+ 18m 3* A really tasty and intense route! Very steep!
7A L'ENVER CAVE
–7a l'Enver: 8a+ 15m 2*: A great roof with a total no hand rest and a surprise at the end.
–Finally it's not 7a: 8b 15m 2* Another intense route, nice!
–Agrimi: 7a+ ** Nice finish on big tufas!
MAGOULIAS WALL
–A Route with a View: 7b 40m 2*: Very nice view and interesting at the top.
–Fred: 6b 27m 3*: Immaculate wall with hidden handholds.
–Nikolas extension: 7a 40m 1*: A nice end. Needs some traffic (after the rain?)
–K tsi k: 7b+ 20m *: An interesting bouldery sequence (to the right of Vlasis house.)

MAGOULIAS RIGHT
11.1 Angry Birds 3* 8a 12m: In the small cave. Very short with a hard and intense start and a strange little top.
11.2 Norwegian Friends 3* 7b+ 12m: Insanely cool route with steep tufa climbing in the small cave of Summertime.
SUMMERTIME
14.1 Asterias 2* 4c 35m
14.2 Ammos 2* 5a 30m
14.3 Soupia the Great 3* 5b+/c 20m
14.4 String 3* 5b/c 20m
14.5 Bikini 3* 5b+ 20m
20.1 Sophia 2* 5a+ 25m
This entry was posted on Monday, July 22nd, 2013 at 09:51 and is filed under Kalymnos news, New Sectors. You can follow any responses to this entry through the RSS 2.0 feed. You can skip to the end and leave a response. Pinging is currently not allowed.
2 Responses to "New routes at sector Summertime"