Photographer Simon Carter in Kalymnos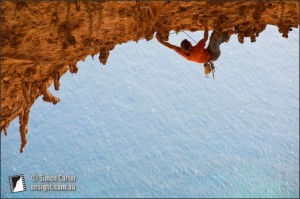 Simon Carter is an internationally acclaimed outdoors photographer from Australia, named one of the World's Best Adventure Photographers by Men's Journal Magazine (USA). Last spring, Simon spent some time on Kalymnos with his wife Monique Forestier, a feisty top-notch climber, and their baby daughter Coco. Their original plan was to stay for 3 weeks, but as it often happens, they extended their stay to attend the 4th Climbing Festival of Kalymnos (22-26 May 2009). It goes without saying that Simon took beautiful shots at the festival. The Carters also did quite a lot of climbing, with baby Coco (already a little socialite at 4 months old!) stealing everybody's heart at the crags.
Simon Carter's climbing photos focusing on move, difficulty and / or the climber's expression are surely fantastic, but our personal favorites are the photos also showcasing the setting in which the climb takes place. Imagine a photo where the climber takes up a fraction of the frame and the landscape unfolds around her in all its grandeur. Granted, we are no photo critics – but these images are simply stunning, and they are still every bit the climbing photographs.
Check out Simon Carter's photos and report on Kalymnos here, and make sure to browse some of his galleries for more of his beautiful photography.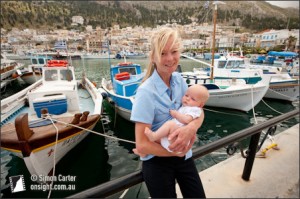 Simon Carter's amazing videos
This entry was posted on Sunday, March 7th, 2010 at 23:56 and is filed under Kalymnos news. You can follow any responses to this entry through the RSS 2.0 feed. You can skip to the end and leave a response. Pinging is currently not allowed.