The Kalymnos Rescue Team rises to the occasion, again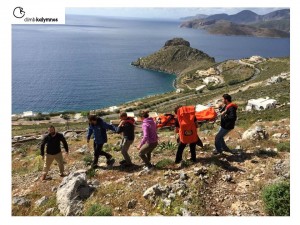 Today was the second time within a week that the Kalymnos Rescue Team was needed. This afternoon at sector Odyssey the team administered first aid to a climber with a broken ankle and transported her down to the road, where she was picked up by the ambulance. Their response was immediate; the climber is being treated at the Kalymnos hospital, and we hope she'll be back on her feet again very soon…
And while we're on the rescue topic, our post about last week's incident at Grande Grotta has been viewed by more people than any other post we've ever published. If this is any indication of what's important for climbers, it only reinforces the fact that a rescue service on Kalymnos is absolutely essential.
So please support this awesome team. You can buy the Rescue Card while you're here (15 EUR for 15 days / 25 EUR for one month / 80 EUR for one year) or you can make a donation. You can also buy the Rescue Card online.
Lastly, in case you call in an accident the Rescue Team asks that you be ready to provide the following information:
WHO: First and last name, telephone number
WHAT: Nature of accident, number of injured, severity of accident (please describe injuries as accurately as possible)
WHERE: Place, spot, sector
WHEN: Time of accident
More info about the Kalymnos Rescue Team here.
This entry was posted on Friday, April 18th, 2014 at 23:16 and is filed under Kalymnos news. You can follow any responses to this entry through the RSS 2.0 feed. You can skip to the end and leave a response. Pinging is currently not allowed.
8 Responses to "The Kalymnos Rescue Team rises to the occasion, again"